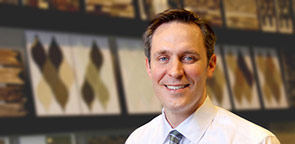 Ryan joined H.J. Martin and Son in 2006 as a safety coordinator, and subsequently as a fixture crew manager where he oversaw the coordination of more than 100 national installers. He was promoted to vice president of field operations in 2015. In this role, Ryan oversees and manages the continued development of the company's installation teams across all divisions and throughout the nation; building depth by means of hiring new installers and apprentices, as well as leveraging the strengths of the industry's most experienced installers by working with the organization's crew managers to help improve productivity and cross-training opportunities. Ryan acts as a resource for both the divisional leaders and lead superintendents to help the company remain an industry leader through further training and education, advanced safety initiatives as well as researching and providing the best tools and equipment available to succeed.
During his time with H.J. Martin and Son, Ryan has traveled to many job sites and worked closely with project managers, crew leaders and crews monitoring safety awareness and troubleshooting unique site-specific safety challenges. Ryan aided in the progress of a safety program that, through foreman buy-in, resulted in an EMR rate of .86, the lowest in company history. Additionally Ryan worked with the fixture installation team to cross train employees to become more efficient and diversely skilled.
In August of 2009, Ryan achieved the Leadership in Energy and Environmental Design Accredited Professional, LEED AP, status. This allowed the organization to participate in LEED registered construction projects. In August of 2013, he took on the additional title of LEED AP, BD+C. Ryan earned a BS degree in Natural Resource Management from the University of Wisconsin – Steven's Point and additionally his MBA in Business Management from Concordia University. Prior to joining the H.J. Martin and Son team in 2006 Ryan split his time working in a part-time capacity for the Department of Natural Resources as a Conservation Warden and full-time as a carpenter in the residential market building custom homes for Cedar Bay Construction, Inc.
Professional and Community Involvement
Serves on the Northeast Wisconsin Technical College Carpentry Advisory Board.
Involved with NWTC's structural systems advisory committee.
Completes 30 hours of credits every two years to maintain Lead AP, BD+C title.