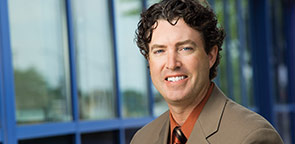 Kevin joined H.J. Martin and Son in 1999 as a project manager and estimator, and was promoted to vice president in 2002. He oversees the Commercial Glass and Hollow Metal teams, including estimating, project management, fabrication and installation (glaziers) production, as well as supplier and customer relationships.
Under Kevin's leadership, H.J. Martin and Son has gone from a glazing company with 11 glaziers and a minimal support team in 1999 to today, when it is one of the largest glass companies in Wisconsin with a team of 42 glaziers, four project managers, three estimators, one CAD technician and 15 fabricators (including warehouse management). His innovations included adoption of a system where CAD drawings are sent directly to the H.J. Martin and Son distribution center, eliminating waste and increasing productivity. He also oversaw the transition to the company's new, 61,000 sq. ft. warehouse, where production includes everything from simple storefronts, to window walls and skylights, to custom metal and panel fabrication.
The most significant project of the Commercial Glass Division during Kevin's tenure was an extensive glass wall at Lambeau Field, home of the Green Bay Packers, in 2002. Measuring 180' long by 80' high, the glass wall welcomes visitors to the hallowed NFL stadium and becomes a well-known visual on national television broadcasts. The largest glass project in the history of H.J. Martin and Son at the time, the Commercial Glass Division's exemplary work on this aggressive project leads to other large-scale glass projects nationwide. Kevin also has overseen the award-winning Wisconsin Institute for Discovery (WID) at the University of Wisconsin-Madison in 2010, the sparkling Business Bank of Nevada.
Kevin completed the pre-architecture program at the University of Minnesota-Twin Cities before earning a B.S. degree in construction administration from the University of Wisconsin-Madison in 1996.
Professional and Community Involvement
Previously coached girls softball at Bay Port High School in Green Bay, Wis.
Currently manages Green Bay Powerhouse Fastpitch girls softball; has won USSSA National Championships in 2016, 2017 and 2021 with his 16U team, and followed that with a National Championship runner-up in 2018 with his 18U team. In addition, has won 7 straight State Championships in WI & IL.