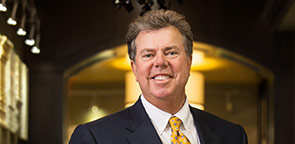 Edward Martin has overseen the growth of H.J. Martin and Son from its roots as a small carpet store to its current place as one of the nation's largest interior and specialty contractors with more than 900 employees and annual revenues exceeding $150 million annually. The company's six divisions serve a host of well-known national retailers while its two flooring design centers in Northeast Wisconsin set the local standard for quality and service.
The company's remarkable transformation has been spurred by Martin's relentless pursuit of new business and a willingness to push the limits of its capacity. It only has been possible due to a family-like culture within H.J. Martin and Son, where it is not uncommon for loyal employees to work decades for the company.
Martin himself became a third-generation member of H.J. Martin and Son, when out of college he joined the company first started by his grandfather, Henry John, in 1931 selling paint and tile out of his Maple Street garage. Working under his father, Patrick Henry, Martin made his first impactful stamp on the company's growth, adding a Drywall division (now Walls & Ceilings) in the mid-1980s.
That decision, which innocently started when he was purchasing a forklift from a local drywall company that was liquidating its assets, ultimately led to H.J. Martin's national success as an interior contractor, serving household brand names. Today, the Walls & Ceilings division alone generates more than $20 million annually in sales for the company, revenues on par with its more visible Glass division.
Only years later, Martin fortuitously had a chance interaction with a Best Buy store stocking clerk while Christmas shopping in 1987. The clerk mentioned that the consumer electronics retailer, in its own infancy, was planning to do some remodeling and that Martin should give them a call. That tip, along with Martin's resourcefulness, by the following summer led to the company doing the "Answer Center" in all 20 Best Buy stores at the time.
The growth of the Fixtures division (now National Installations) became a subsequent extension of H.J. Martin's success in drywall and its acquisition of work like that initial Best Buy job.
In the early 1990s, Martin persisted in trying to gain interior contracting business from a large national company known for being very selective in choosing its vendors. Initially upon receiving work from the upscale discount retailer, H.J. Martin and Son was given a 1-2 store capacity; its capacity now is at 20-25 stores, one of the largest capacities for this national retailer in the country.
Another signature project for H.J. Martin involved the 2001-03 renovation of historic Lambeau Field, located roughly two miles from its headquarters and home of the NFL's Green Bay Packers. Though the company had been involved in three prior expansion projects at the stadium through flooring and skybox glass, this one posed the immense challenge of an extensive glass wall, measuring 180' long by 80' high, that marked the grand entrance to the new Lambeau Field Atrium.
Though his company had never before participated in a glass and glazing project of such a large scale, Martin was adamant that H.J. Martin and Son could do it, and would do it. And they did – successfully.
Its success became a testament to the abilities of H.J. Martin and Son's Glass & Glazing division, and since has led to many other, bigger-scope projects, including several at the University of Wisconsin-Madison.
An ongoing commitment to quality work has allowed H.J. Martin and Son to win 19 'Build Wisconsin' awards from the Associated General Contractors of Wisconsin (AGC) since 2004.
When the U.S. economy was hit by a major recession in 2008, national retailers pulled back from new store construction and turned their focus towards store remodeling projects. With a proven track record in remodels and the strong relationships Martin had cultivated in the retail world over many years, his company was more than prepared to meet the concurrent opportunities and challenges in the early stages of that paradigm shift.
Because retail stores want to remain open during remodels, installers often interact with customers while on the job site. Martin takes the innovative step of giving his employees the "soft" skills needed during the remodel, providing things such as Dale Carnegie training.
Other positive factors for H.J. Martin and Son in its commercial business include the efficiencies it provides due to its various divisions and the fact that many of its employees are cross-trained in different specialties. The company also works directly with the client – there is no one between H.J. Martin and the retailer.
Licensed in all 50 states and Puerto Rico, H.J. Martin and Son's commercial business today accounts for between 80-85 percent of its annual sales.
Sales volume continues to grow under Martin's leadership. In a single month (April 2013), H.J. Martin and Son had more sales than it had in the entire first year Martin owned the company (1996). That's a long way from its $2 million in annual revenues it had when he first joined the company in 1978.
Martin, however, has never forgotten his company's roots, including its first job of a residential, ceramic-tile bathroom. Such projects remain a pillar of the H.J. Martin and Son name. Its residential business includes everything from new homes, to remodels, to multi-family dwellings.
From its two design showrooms in Northeast Wisconsin, H.J. Martin and Son offers trusted brands and superior quality, along with unsurpassed service. The company's size, longevity and industry relationships give it buying power well beyond the typical flooring retailer, leading to the best possible pricing for its customers.
H.J. Martin and Son's flooring products range from carpet, to natural stone, to tile, to hardwood, to laminate, to sheet vinyl and luxury vinyl. A host of exclusive products not found anywhere else in its home region also are a hallmark of the company's residential business.
Born Edward Neufeld Martin 1955, in Green Bay, Wis., he began working around the company at the age of 14. Martin subsequently went on to study at the University of Wisconsin-Madison, where he received a B.S. degree in 1978.
Martin married his high school sweetheart, Terri Martin (Dalebroux). They have four children: David, Daniel, Joe and Emily. David joined H.J. Martin and Son in 2009 as a fourth-generation member of the company. Daniel works as a financial associate at Houlihan Lokey in Chicago. Joe, who became a licensed pilot late in 2018, has been with H.J. Martin and Son since 2014, while Emily is a student at the University of Wisconsin-Madison.
Feeling a strong responsibility to support non-profit organizations and initiatives in Northeast Wisconsin, Martin has made more than $5 million in financial contributions to community groups since assuming company ownership in 1996. Family support of the Bellin Health Foundation totals more than $500,000, including benefaction of the 3,000-square-foot Martin Family Atrium, which welcomes visitors to Bellin's Titletown Sports Medicine & Orthopedics clinic, and hands-on involvement in the building's construction through four of its divisions.
He also contributes H.J. Martin and Son workforce and materials to back the capital projects of various charitable organizations.
In 2000, Martin helped to transform local Webster Park into the vibrant P.H. Martin Webster Sports Complex in memory of his late father, Patrick Henry Martin. His contributions resulted in stadium lights around its baseball fields, a level football field with goal posts and a modern concession stand with restrooms.
Another community asset, the Packers Heritage Trail, was improved with Martin's assistance, through sponsorship of a bronze statue of Hall of Famer Paul Hornung, dedicated in September 2013 as part of a new Packers Heritage Trail Plaza in downtown Green Bay.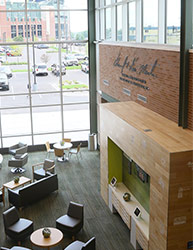 A long-time family friend, Hornung joined Martin and others earlier in 2013 in ownership of Titletown Five, a colt trained by the famed D. Wayne Lukas which raced in the 138th Preakness Stakes. Other hobbies of Martin include playing golf, boating and spending time with his family.
Much of Martin's philanthropy has had a focus around local Catholic education, both through academics and athletics. The support and efforts of he and wife Terri were recognized with the 2014 Founders Award at the Twenty-Fourth Annual President's Dinner of Green Bay Notre Dame Academy in May 2014. Edward and Terri Martin also were major benefactors of the Green Bay East Side YMCA.
Other major awards received by Martin have included the Lifetime Achievement Award from the University of Wisconsin-Madison in 2009. His company also has been honored with the 2018 Medium Employer of the Year Award from Disabled American Veterans (DAV) Wisconsin, the 2017 Alumni Employer of the Year Award of Northeast Wisconsin Technical College, the Community Service Award of the Associated General Contractors of Wisconsin and the Compassionate Employer Award from The Compassionate Friends.
Martin's service on the board of directors or executive committee of community organizations has included the Green Bay Packers, the Green Bay Chamber of Commerce, the Greater Green Bay YMCA, the Einstein Project, the Libertas Treatment Center, the Green Bay Packers Foundation, the National Railroad Museum and the Boys & Girls Club of Green Bay.
In 2014, Martin was appointed President of the Trump International-Chicago board of directors.
Other local organizations Martin has had a significant involvement with include New Community Shelter, the Brown County United Way, the Jackie Nitschke Center, the Bellin Foundation and Green Bay Pop Warner Football.