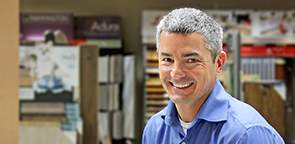 Scott joined H.J. Martin and Son in 2004 as a cost accountant, serving in that role until 2012 when he was promoted to treasurer and one of six officers of the company. In his current position, he oversees commercial-fixture billing, commercial-job costing and accounts-payable disbursement for work ranging from local to national. Scott also is the company administrator for Sage Timberline, a construction software and property management program.
Known for a multi-faceted approach to his work and a keen attention to detail, Scott has taken best practices within accounting and implemented them in other departments at H.J. Martin and Son. He also keeps up with the latest industry trends for the company by attending conferences and seminars on topics ranging from RFMS (a billing management system for the flooring industry), to sales & use taxes, Sage and external audit best practices.
Prior to coming to H.J. Martin and Son, Scott spent seven years as a financial analyst with Birds Eye Foods, a vegetable processing company then located in Green Bay, Wis. He previously had been an assistant accountant with Gegare Tile, also in Green Bay.
Scott received an A.A. degree in accounting from Northeast Wisconsin Technical College in 1996.
Professional and Community Involvement
Served in the United States Navy from 1990-93