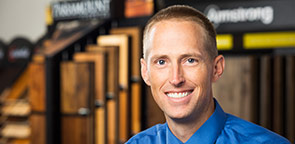 Gary joined H.J. Martin and Son in 2010 as a project coordinator, and subsequently worked as the installation manager for Commercial Flooring, and as a project manager. Gary was promoted to vice president of Commercial Interiors in 2014. In that role, he oversees all aspects of the Commercial Flooring Division, which includes solidifying relationships with general contractors, architects, designers, end users and vendors, along with generating sales, managing estimating and installation, and improving processes within the division.
In addition to overseeing the Commercial Flooring Division, he initiated the addition of raised access flooring, which he now heads, along with polished concrete.
In Gary's time with H.J. Martin and Son, his responsibilities have included estimation of labor and materials, collaboration with contractors and end users, project tracking, interaction with customers to ensure satisfaction, supervision of installation crews and coordination of installer training.
Prior to joining H.J. Martin and Son, Gary spent 14 years as a commercial carpenter in Northeast Wisconsin, working as a site superintendent for the final 10.
Gary earned an A.A. degree in natural resources from Fox Valley Technical College in 1996. He also has taken part in the sales and marketing program at Northeast Wisconsin Technical College, along with participation in multiple Starnet seminars and events.
Professional and Community Involvement
Active volunteer and member of The New Franken Sportsman's Club, Wisconsin Traditional Archers, and the Wisconsin Chapter of Backcountry Hunters and Anglers
Volunteers at Prince of Peace Catholic Church in Green Bay, Wis.
Volunteers with his family in the PALS Program of Brown County helping mentor youth in the community
Volunteers and participates in fundraising activities to benefit The Leukemia and Lymphoma Society