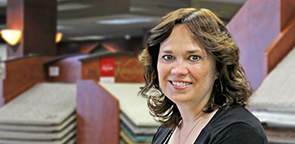 Ellen joined H.J. Martin and Son in 1980 as one of only five office staff members for administrative and accounting functions. Initially her responsibilities included accounts payable, assistant to Patrick and Edward Martin, and shared receptionist duties.
In the early days, Ellen's duties were varied, from answering the telephone, to typing quotations and reconciling bank accounts. She played an integral in H.J. Martin and Son's first major, national job, a 1988 remodel of 20 Best Buy stores, which saw her order the temp labor and equipment rentals, along with verifying time cards.
Since the early '90s, Ellen has served as the assistant to H.J. Martin and Son leadership, working with a pair of father-son duos. From the time she started, Ellen assisted the company's second (Patrick) and third (Edward) generations until Patrick Martin's passing in 1995. History repeated itself after David Martin joined the company in 2009.
As H.J. Martin and Son grew, so did Ellen's responsibilities. She became an officer of the company in December 2001, at which time she also was promoted to corporate secretary of H.J. Martin and Son.
Ellen worked at a local Ford dealership right out of high school for around one year. She subsequently started at H.J. Martin and Son in September 1980, taking night and weekend courses in the administrative assistant program at Northeast Wisconsin Technical College to further hone her skills. She completed 40 years of service with H.J. Martin and Son in 2020.
Professional and Community Involvement
Previously led the activities committee at Our Lady of Lourdes Catholic parish in De Pere, Wis., for four years