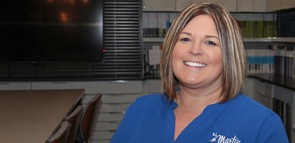 Nikki joined H.J. Martin and Son in March 2013 after nearly a decade in the accounting field with two other Northeast Wisconsin companies. In the role of Vice President of Accounting, her responsibilities include preparation of financial statements, analysis of departmental activities, acting as a liaison with outside auditors at year end and serving as the primary contact for all banking relationships. Nikki also oversees billing, along with accounts payable and receivable.
Known at H.J. Martin and Son for her upbeat attitude and approachability, Nikki was instrumental in the acquisition and buildout of the Burlington-Michaels property in the nearby Military Avenue Business District. She spearheaded the documentation of all costs and timelines, along with helping to obtain Tax Increment Financing (TIF) through the City of Green Bay.
Nikki began her professional career in 2004 as an accountant with P&S Investments, which from its Green Bay, Wis., headquarters operates six companies transporting liquid edible food products. Three years later, she moved to Bassett Mechanical in Kaukauna, Wis., as a billing specialist. Nikki's duties with the mechanical engineering and contracting company ranged from the filing of payroll and sales tax returns, oversight of fiscal year-end inventory, process improvement, account reconciliation and company payroll.
Nikki received B.S. degrees in accounting and business administration (management emphasis) from the University of Wisconsin-Green Bay in 2004.