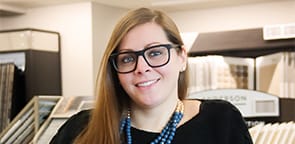 Jean first joined H.J. Martin and Son in August 2011 as a job cost accountant and has been a senior accountant since April 2016. In her current position, she oversees the payroll team, prepares end-of-month worksheets, analyzes monthly reconciliations, readies financial statements, analyzes costs, monitors fixed assets and handles management of company properties, among other items.
Jean has positively transformed the monthly sales reports used by company leadership and project managers through the use of extensive pivot tables and formulas. She also has helped to streamline the processes between H.J. Martin and Son's point-of-sale software (RFMS) and accounting software (Sage).
Jean began her professional career in 2006 as a pay services/general ledger specialist with Schneider National, a transportation and logistics company headquartered in Green Bay, Wis. With the nationwide carrier, she reviewed, approved and audited company payroll, identified opportunities for continuous improvement by streamlining processes, reconciled the payroll general ledger and maintained government payments in line with regulations. She also has spent time with Fairchild Equipment in Green Bay, where she handled financial reporting and preparation, cash-flow forecasts and inventory management.
Jean received a B.S. degree in accounting from the Green Bay center of Lakeland College in August 2013. She previously had earned an A.A. degree in accounting from Northeast Wisconsin Technical College in December 2010.