Sometimes 'Perfect' Does Exist

Posted on December 22, 2015 by H.J. Martin and Son
You finally took the leap and switched the carpet in your home over to hard surfaces and couldn't be happier! Whatever your choice; hardwood floors, luxury vinyl tile or plank, ceramic tile or stone…the results are gorgeous and easy to maintain. Your reasons for making the switch were numerous; that messy dog…your kids allergies….those wet sloppy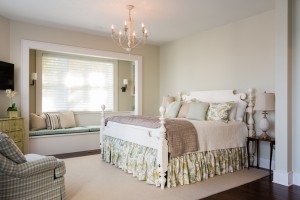 spring and winter seasons and the desire to add value to your home. But now you find yourself feeling like those spaces are missing something. Your living room might feel a bit cold and sort of lost its coziness and separate identity from the open dining space or the great room may seem a bit too noisy. You may have realized your hallway seems a little boring lacking personality and when the grand babies come over you might want a soft spot for them to land in the play room. You need to add softness, coziness, color, texture, a sense of place and sound dampening….you need area rugs.
Finding just the right size, color, texture and price point on area rugs can take months or even years depending on your local resources and how much time and money you are able to devote to the search. Forget about ordering online; quality and color is nearly impossible to determine when purchasing via websites. And if you are looking to purchase area rugs for more than one space, good luck! You may shop for days hitting twenty stores to find one you love, but how do you find coordinating rugs for the adjacent spaces in just the right sizes without breaking the bank? A frustrating endeavor……unless you know H.J. Martin and Son.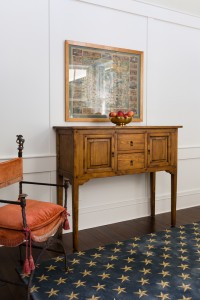 At H.J. Martin and Son we create custom sized area rugs out of the thousands of broadloom carpet options available throughout our amazing showrooms. Whether it's a subtle texture or large scale pattern that's right for your room, we surely have the right pieces for you with all those options. Any size rug you wish can be created out of carpet roll goods, then we bind them ourselves with durable and inexpensive standard nylon binding tape or simulated wool surging available in hundreds of colors. We also have several vendors who will cut and bind carpet to your specifications with wide canvas even leather binding. From rich wool Wilton's to edgy funky shags, we have it all.
You won't be on your own though to navigate this vast selection when creating your own custom rugs. Our design team will guide you expertly keeping utility, budget and aesthetics in mind based on your needs. Maybe your starting point is an existing sofa in your family room, just bring us a photo of the room and a cushion representing the fabric and we will help you create the perfect complementary rug. If you have an existing rug to work around, bring a photo of it or load it in the car and bring it to us, our designers will help you find companion rugs that work with it rather than compete.
Don't let the word "custom" scare you, at H.J. Martin and Son, "custom" means "perfect for you" not necessarily "expensive." Our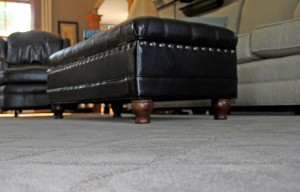 designers can calculate the cost of a rug while you wait for our own creations, quotes from our vendor sourced rugs can be acquired within a day which we will happily email your way as soon as they arrive. Most rugs can be ordered, cut, bound and ready for pick up or delivery within two or three weeks. We'll also be sure you have the right rug pad to protect your gorgeous new floors from any potentially damaging abrasive rug backs. What happens when those perfect new rugs need to be cleaned? No problem, because you know H.J. Martin and Son is also your source for professional area rug cleaning. Our hot water extraction technicians will freshen up your rugs helping keep them looking good and performing well for years. They can spot clean or do an all over cleaning… no matter what the fiber type or texture, we'll get it right. We'll come to your home or you can drop off the rugs to be cleaned. And while we're in your home, don't forget about asking us to clean your upholstered furniture pieces or that last room or two of carpet in your house.
Visit our showrooms in Green Bay or Neenah, custom area rugs….another reason why you need to know H.J. Martin and Son.
Tags: area rug binding, area rug cleaning, Area Rugs, broadloom carpet, custom area rugs, designer, hard surface flooring, hot water extraction cleaning, leather bound area rug, rug pad, shag rug, wool rug