Buying Guide: Adding Tile and Natural Stone to Your Home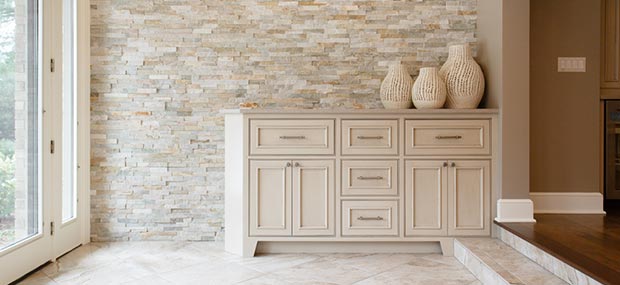 Tile and stone can be artfully customized into virtually any design including beautiful mosaics, which can be found installed and on display in our showrooms. The knowledgeable H.J. Martin and Son designers will guide you through finding the perfect tile or natural stone selection that suits the aesthetic of your home. Below are frequently asked questions regarding tile and natural stone:
What Makes Tile and Natural Stone Different?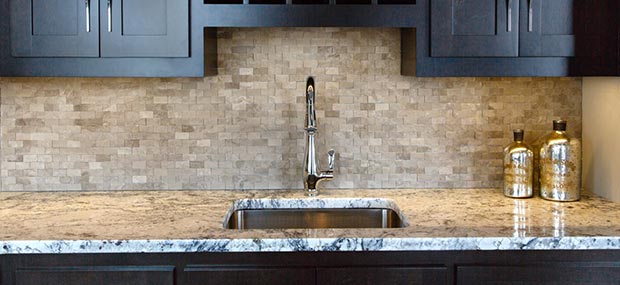 Although there are times when you cannot tell tile and natural stone apart, there is a difference. A common false impression is that natural stone is superior to tile flooring or backsplash. Tile tends to be less expensive than natural stone and porcelain tile in particular is harder and stronger than most natural stones (excluding granite). Large-format tiles offer the opportunity to make a room look larger and create a more seamless look.
Natural stone is manufactured, but still quarried; there is potential for the finish of stone to have imperfections. In comparison, tile flooring or backsplash will always be consistent with the sample. Stone is a very porous material while porcelain is extremely dense making porcelain tile great for areas with extreme foot traffic. Porcelain is also known for its low water absorption rates for areas with "Freeze-Thaw" conditions.
No one can deny the timeless beauty of natural stone, which is why tile manufacturers work to mimic its look with high-definition imagery. You cannot beat the beauty of the drama and variation of natural stone in your floors, backsplash, or walls. Tile typically contains a pattern repeat, allowing for some recurring tile designs.
In Which Areas of My Home are Tile and Natural Stone Appropriate?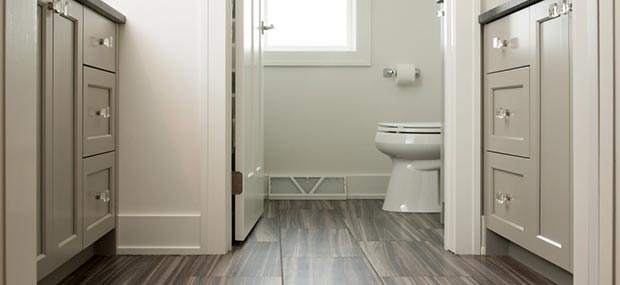 There are many areas of the home where both natural stone and tile work great. Backsplashes and fireplaces are the most common uses for natural stone. Both can be used in wet areas such as bathroom floors and backsplashes, kitchen flooring and backsplashes and showers. However, natural stone does need to be maintained with a sealant in these spaces.
How are Tile and Natural Stone Maintained?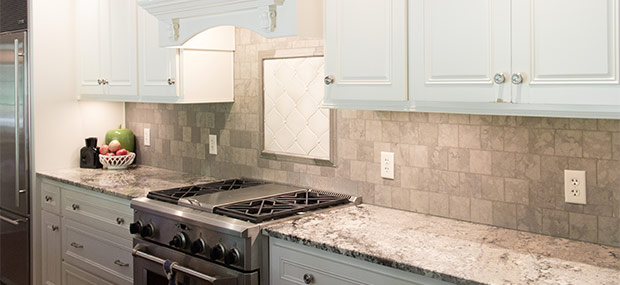 To ensure a long lifetime of natural stone, proper maintenance is crucial. Natural stone is naturally porous and requires different maintenance than tile. Cleaners that are acceptable for porcelain or ceramic tiles may stain, dull or damage your stone. Small particles of dust or dirt could have the potential to scratch the surface of your stone. Natural stone floors should be vacuumed or dust mopped frequently to remove abrasive agents that could be on the surface. Only use PH-neutral cleaners on your natural stone that do not contain bleach or acid. Acids such as vinegar could etch and damage your natural stone.
Tile needs to be cleaned routinely with an all-purpose, low VOC cleaner – whether it's your tile floor or tile backsplash. The product should also be appropriate for cleaning grout joints. These multipurpose cleaners remove soap scum, hard water deposits and mildew and are designed for everyday use. The area can be cleaned with the use of a cotton mop, cloth, sponge, or non-metallic brush. The area should then be rinsed with clean water to remove any cleaning solution residue. Remember to sweep or vacuum the tile flooring area prior to cleaning to remove dust and debris.
Stop by the H.J. Martin and Son showroom for an exclusive look at the following brands of tile and natural stone: Daltile, Angora, Happy Floors, Red Rock, Tabarka Studios, Bedrosians, Alysedwards, Great Lakes, Ceramic Tileworks, Transceramica, Encore Ceramics, Terrazzo and Marble, All Tile, Childcrest, Stone and Pewter, American Olean, Midwest Tile, SICIS, Mirage, Interceramic, Realstone, MSI, Mannington, and Mosaique Surfaces.
Share on Facebook Share on Twitter Share on Pinterest Share on Google Plus
Related Articles
Still Not Enough?
Get answers from the experts. Talk to one of our designers!