What Do I Need to Know About a Backsplash?

H.J. Martin and Son can assist to make your custom backsplash one of a kind. We have one of the largest selections of backsplash materials in Northeast Wisconsin, including exclusive products not available anywhere else.
While it does have a utilitarian function to protect areas from water and the general messiness of life, a backsplash can provide style to a kitchen consisting of mostly neutral colors. It also can add color to a bathroom of any size and shape, along with providing character to a bar area. If done right, it can become a décor focal point.
Why not inspire people through your backsplash? Eye-catching materials like glass, wood, metals and stone – plus a host of styles and patterns – make all things possible!
Our expert, in-house interior designers are able to walk you through the entire process, from product choices to the work of our experienced installation team. No detail is too small – not even your grout selection. The design team also will ensure that your backsplash choice blends well with the existing décor of your home.
We also will walk you through the cleaning and maintenance benefits of each type of product. Let's face it, that's pretty important!
What Are the Style and Material Options Available to Me?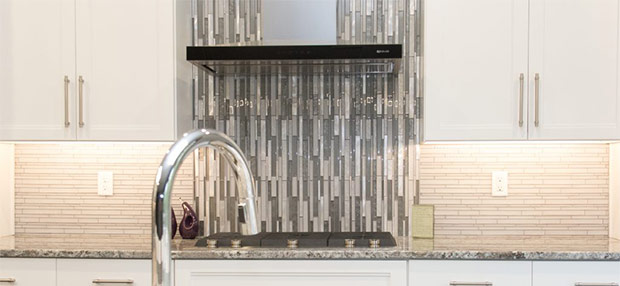 We can help you meet your backsplash vision, whatever that might be, while matching the look and feel of your home. H.J. Martin and Son offers a variety of custom backsplash styles: contemporary/modern, rustic, shabby chic, traditional and transitional (a mix of contemporary and traditional), among others.
Available backsplash materials include ceramic, porcelain, marble, granite, glass and metal. A classic, ceramic/porcelain tile like Subway tile never will go out of style. Products like glass, meanwhile, will provide a contemporary, modern look, while natural stone can create a traditional feel. You even can explore different kinds of patterned tile, or tile with dimension, to give the backsplash more of a 3-D look. We are happy to help you sort through these options with a few simple questions.
H.J. Martin and Son offers exclusive backsplash product options that you only can get from us, with new products arriving in our showroom quarterly.
Your installation pattern choice also matters. Consider how different backsplash tile can look if installed in a horizontal or vertical position. For a more unique look, laying tile in a diagonal or a herringbone look can have a truly distinct feel. There also are options for accents and additional features to really make your backsplash pop.
Don't forget about grout choices! A tile's grout can change the whole look of the tile, depending on whether the grout color blends or contrasts with it. We have many different grout options from simple whites and tans, to colorful glitter and metallics.
How Do I Get Started?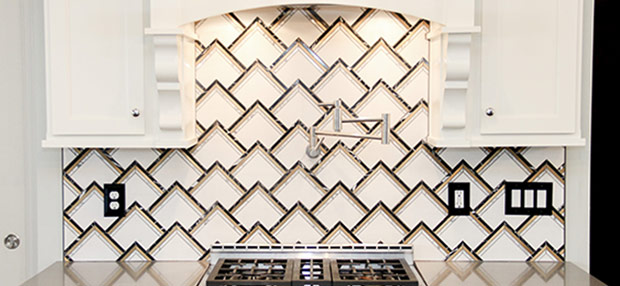 The first step to finding your new backsplash is to visit our website gallery to see some of our beautiful previously installed backsplashes. Also, we have websites like Houzz and Pinterest loaded with ideas on what is possible. Then, stop by our showroom to talk with one of our talented, in-house interior designers. Be sure to bring along photos of the space you want to install a backsplash in and, if available, your cabinet finish and a countertop sample.
If there are different backsplash ideas you have, you are able to take samples home and see how you like different looks in your space. We are more than happy to accommodate your needs when deciding on the final product!
Keep in mind as you plan that an average kitchen backsplash will require approximately 25-square-feet of tile, while about 5-square-feet of tile customarily is needed for a bathroom backsplash. Bar areas typically call for roughly 15-square-feet to complete the backsplash. Considering that every home is different, our measurers will come out and measure your space free of charge!
What If I Want to Do It Myself?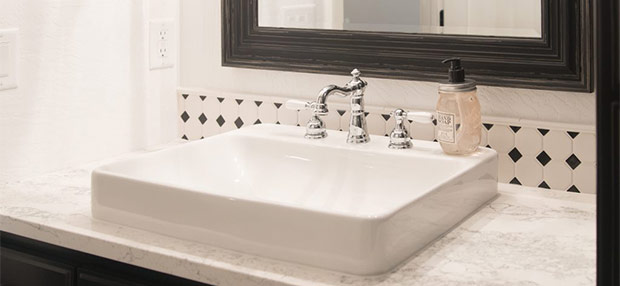 While our tile installers are experts, we recognize that some customers have the skills and desire to do their own backsplash. If that is the case, don't be afraid to visit our showroom to see all of the backsplash options you can order!
Our design team is more than happy to help you check out our stock material wall. We also can assist in having whatever you want delivered right to your home!
Share on Facebook Share on Twitter Share on Pinterest Share on Google Plus
Related Articles
Still Not Enough?
Get answers from the experts. Talk to one of our designers!