Laminate Flooring Buying Guide
Laminate flooring is a synthetic wood based product featuring wood or tile visuals typically. It is made by fusing several layers of material together including composite wood, the surface image and wear layers with heat, pressure and adhesive.  This process is known as lamination. Laminate flooring is relatively new to the industry but has become very popular in the last 10-15 years due to its reasonable price point, durability, ease of maintenance and aesthetic appeal.
Laminate or Hardwood Flooring?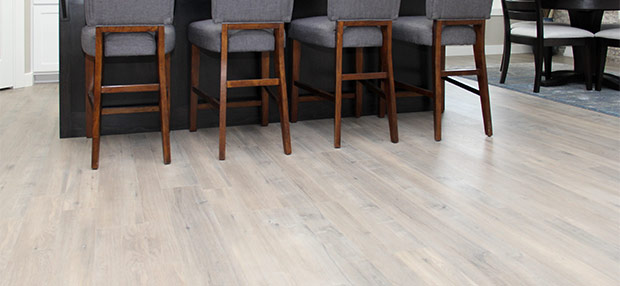 Laminate was created as a more economical and durable alternative to hardwood flooring. Although nothing can replace 100% authentic real wood, laminate does bear a similar look to hardwood flooring. Laminate has an aluminum oxide surface wear layer for increased durability, ease of cleaning and fade resistance. Today, laminate flooring can simulate the look of dozens of different natural hardwood materials as well as the appearance of a variety of natural stone and ceramic floor tiles. Laminate flooring can also represent the texture that natural hardwood gives you with embossed in register texturing giving it an even more naturally convincing appearance. Unlike real hardwood floors, laminate flooring cannot be refinished. Laminate has a single wear layer and when the layer is damaged the individual plank then needs to be replaced. Over the lifetime of the floor, the laminate wear layer may degrade and scratches could appear in the surface of the laminate making a whole floor replacement necessary.
In Which Areas of My Home is Laminate Appropriate?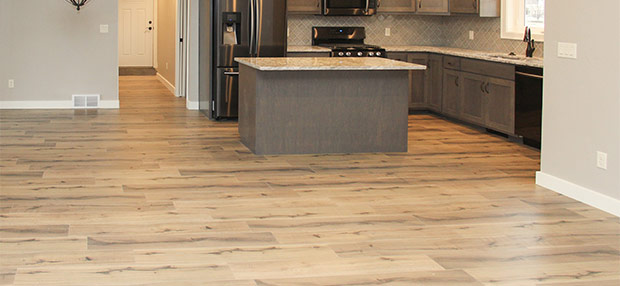 Laminate flooring is very durable, stain resistant and mold resistant making it a wonderful choice for high traffic areas. As a result, laminate is a popular flooring choice for living rooms, hallways, entryways, and dining rooms. But because it is still a wood based material, it does not perform well in areas of high moisture such as kitchens, bathrooms or laundry rooms. Laminate flooring is sold with a locking system and is considered a "floating floor" since it does not get glued down to the subfloor. Laminate is available in a variety of overall thicknesses, wear layer thicknesses and price points relative to their specific durability. When selecting your laminate flooring, consider how level your subfloor is before determining the direction you want to run the planks. Running the length of the board across dips or peaks in the floor will create installation challenges. The thicker the laminate, the more sound reduction generally the laminate may provide, however laminate flooring is always sold with a separate pad to help with sound suppression necessary because of the air gap created with a rigid floated floor. Most laminates will also have coordinating trim pieces to the laminate selection such as T-molds, stairnosing and endcaps so that your installation will look professional and finished.
What is the Maintenance for Laminate Flooring?
Laminate flooring is very low maintenance. Keep the floor free of debris with weekly sweeping or dust mopping to help prevent scratches from developing in your floor. Use of furniture foot protectors is essential to preventing damage to your floor as well. Use very little moisture on your laminate floor for cleaning. A spray cleaner specifically made for laminate floors is recommended so as to limit the amount of moisture on the floor and not leave a residue. Water or too much moisture may permanently damage the floor. Using area rugs in high traffic areas of the home will help to collect dirt and moisture so that it does not collect on your laminate flooring and begin to damage its surface. Although laminate is a durable flooring option, make sure you keep your pets nails trimmed to minimize finish scratches on your floor. It is also recommended to clean up spills and tracked in dirt quickly to help prevent any damage.
Are There Any Environmental Concerns with Laminate Flooring?
Some environmental experts have expressed concern over laminate flooring being made with compounds containing some formaldehyde. These experts claim that laminate floors release volatile organic compounds (VOC's) over the lifetime of the product in your home. H.J. Martin and Son only promotes and sells laminate flooring lines that are regulated and compliant with the California Air Resources Board (CARB compliant) and are made in America with American standards. This means you can be completely reassured that the products you purchase from H.J. Martin and Son are safe for your home and your family.
Brands: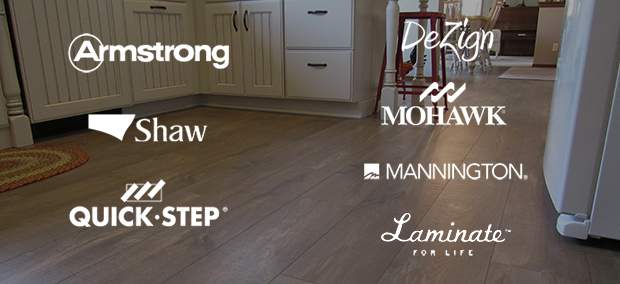 Share on Facebook Share on Twitter Share on Pinterest Share on Google Plus
Related Articles
Still Not Enough?
Get answers from the experts. Talk to one of our designers!