Let's talk heated floors

Posted on February 17, 2016 by H.J. Martin and Son
When thinking about updating your home with ceramic tile, porcelain tile, or natural stone, there is sometimes hesitation as many think these products will mean a "colder floor" in your home. That certainly is a caution when you decide to go with ceramic, porcelain tile or natural stone. However, there is a floor heating system that H.J. Martin and Son can use with these colder products. The floor heating system that we use is called the Schluter Ditra-Heat system. Let me tell you, there are some really wonderful benefits to installing in-floor heat.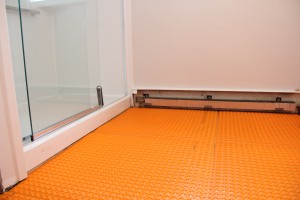 Schluter Ditra-Heat incorporates uncoupling mats that increase the stability of your subfloor to prevent the cracking of tiles and grout joints. Ditra-Heat is laid into the uncoupling mat for uniform heat distribution. The Ditra mat acts as an underlayment so that your floor will be flat where as with previous technology, you would have to skim-coat or self-level the floor, increasing the amount of time it took to install. Schluter Ditra-Heat can be used in various applications, such as over wood and concrete substrates, under ceramic/porcelain tiles and natural stone, along with being installed under shower pans and benches.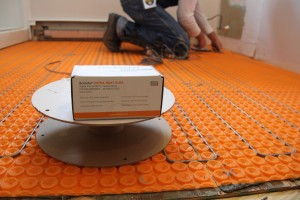 Ditra-Heat is great in small or large space applications. There are various amounts of cable sizes to fit any square footage job. There is even a new addition to the Ditra-Heat family called a power module. This power module is used to extend the span (previously 300 ft) of an area that can be heated on one thermostat. This makes it easier to install in very large spaces and have the ability to only use one thermostat. Schluter also just launched their new touch screen thermostat. This is available with their existing programmable and non-programmable thermostats.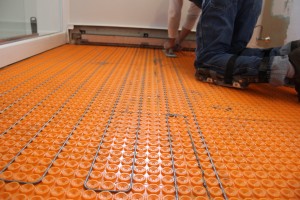 Schluter Ditra-Heat offers a 10-year full warranty on labor and materials. The 10-year warranty requires that the cables are tested after installation with a megohmmeter and two times during the installation to ensure cable quality. H.J. Martin and Son supplies our installation team with megohmmeters and all other proper equipment to ensure our customers receive the 10-year full warranty. Schluter Ditra-Heat also uses two
probes, so if there are any issues with one cable probe failing after approximately 10 years, we are able to switch to the next wire that has not been used to prevent having to tear into your flooring to fix any issues with your Ditra-Heat.
The approximate cost of operating Schluter Ditra-Heat is roughly $0.10 per square foot, per month. Cost may vary per project. If you have approximately 80 square feet of Schluter Ditra-heat, it costs approximately $8.00 per month to run your heated floor 24/7. The touchscreen thermostat has the ability to calculate operating costs with the input of your current electric costs.
The Schluter Ditra-heat system is a product H.J. Martin and Son trusts. When thinking about your next remodel project or if you are building a new home, we can always give you the option of installing Schluter Ditra-Heat. Stop in today and let our designers help you with your latest Ditra-Heat project!
Tags: Appleton, Floor Warming, Flooring, Green Bay, Green Bay showroom, H.J. Martin, H.J. Martin & Son, H.J. Martin and Son, Heated Floors, HJ Martin, HJ Martin and Son, Interior Design, Interior Designer, natural stone, Neenah, Neenah showroom, Residential, Schluter, Schluter Ditra-Heat, Schluter Systems, Tile, Trends