Innovative Commercial Design Center enhances customer service

Posted on February 24, 2016 by H.J. Martin and Son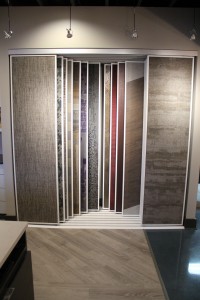 H.J. Martin and Son has launched an innovative concept – a commercial design center – within its Green Bay location. The new space will better serve the company's existing commercial clients, along with providing more flexible hours to local main-street commercial customers.
The H.J. Martin Commercial Design Center officially opened with an open house the evening of February 23, 2016.
"We are excited to offer this novel space to existing and new commercial clients," says David Martin, Fourth Generation at H.J. Martin and Son. "We are moving away from the traditional method of selecting product out of architectural books and giving our customers the ability to gain a first-hand understanding of the look and feel of a wide variety of available materials.
"We want this to be a starting point for general contractors, architects and designers as they specify material."
Within the Commercial Design Center, visitors can have an in-person experience with polished concrete, luxury vinyl tile (LVT) and two different types of carpet tile.
There also is a display of moving panels which show samples of carpet tile, carpet, LVT, sheet vinyl and wall coverings. Clients will have the opportunity to see larger sample sizes, in addition to installation techniques.
The Commercial Design Center is available whenever the Green Bay showroom at 320 South Military Avenue is open. Showroom hours and a map are available HERE. Appointments are encouraged, but are not necessary.
H.J. Martin and Son also plans to host future Continuing Education Unit (CEU) courses for the local design community within the new Commercial Design Center.
Tags: buds 'n bloom, Carpet, carpet tile, CEU courses, Commercial Design Center, Commercial Showroom, customer service, David Martin, Green Bay showroom, H.J. Martin and Son, H.J. Martin Commercial Design Center, Hinterland, Luxury Vinyl Tile, polished concrete, sheet vinyl, wall coverings