Why Glass Shower Doors?

Posted on July 16, 2018 by H.J. Martin and Son
There are many reasons why you should install a glass shower door, but here are a few specific reasons you should put this beautiful accent piece at the top of your dream home list.
1. Customization
Don't settle for your typical shower rod and curtain, as H.J. Martin and Son can provide you with a custom shower by offering endless options to create something truly unique in your home.
Think about how much time you spend in your bathroom every day. It's quite a bit, isn't it? So why not make your daily routine more enjoyable by adding some elegance to your bathroom? Investing in a glass shower door is also a perfect way to add style and value to your home. If you are thinking about remodeling your bathroom, you can easily spice things up with a modern and clean frameless glass shower door. Frameless shower doors are becoming increasingly popular because of the openness and sense of space that it creates, as you can see in the next picture.
2. Versatility
Today there are endless choices to pick from when selecting the right shower enclosure, with a variety of sizes, colors, glass options and details to match the style and décor of your bathroom. Your shower can be styled and built with the large scope of captivating products and materials H.J. Martin and Son offers, including:
Ten types of shower door glass

Heavy and standard glass options

An impressive selection of tile, natural stone and more

A variety of metal finish choices

Multiple handles and hardware designs

Cleaning and care

Waterproofing capabilities
Bringing your vision and needs together is what H.J. Martin and Son strives for. We can help you find stunning tile and showcase it with a glass shower door. H.J. Martin and Son can be your one source to measure, design, order, and install your custom shower. With your ideas in mind, we can help you build a completed shower from start to finish.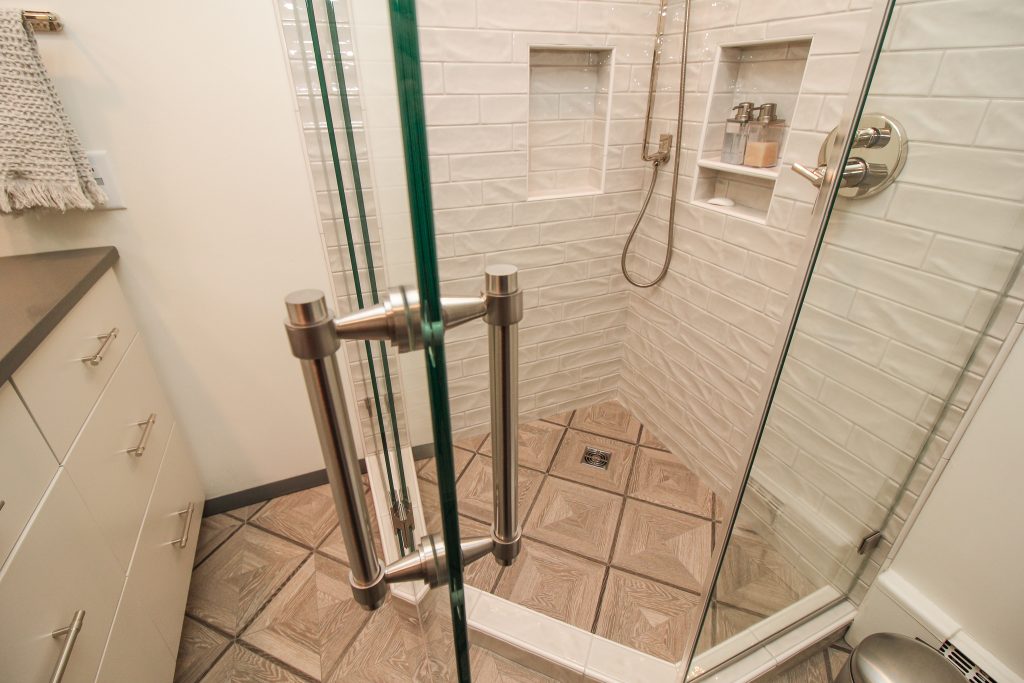 3. Durability
Glass shower doors are constructed of tempered or laminated glass allowing years of worry-free durability and minimal maintenance. At H.J. Martin and Son, we put as much focus on safety as we do aesthetics. With our dedicated shower door specialist on staff and the skills of our highly trained installation team, we make sure that every door we design is structurally sound.
Lastly, say goodbye to wet floors from your shower curtain! When accidentally left outside of the bathtub, shower curtains can drip water on the floor and make an unwanted mess and potentially damage your floors. Plastic shower curtains can also produce mold and are not as easy to clean, often leading to ugly stains and they can even start to smell if not replaced. Rather, H.J. Martin and Son can install glass shower doors protected with the EnduroShield System that will keep them looking new for years to come. Some of the added benefits of EnduroShield include:
Stain and discoloration resistance

Ease of cleaning

Bacteria growth prevention

Eliminating the need to use harsh chemicals
TIP: We recommend cleaning your shower door using a squeegee after the last usage of the day. (We provide one to all of our glass shower door clients for FREE!) For routine maintenance, simply use a clean soft cloth with non-abrasive pH level 7 or 8 cleaner.
For more information about glass shower doors by H.J. Martin and Son, visit this page.
By visiting our showrooms in Green Bay and the Fox Valley, you can see fully installed showers with glass, hardware and finish options. Our designers at any of our locations can help you to make a statement while improving the value of your new home or remodel.
Tags: Fox Valley, Glass shower door, glass shower door installation, glass shower doors, Green Bay, H.J. Martin and Son, H.J. Martin and Son shower doors, Interior Design, Neenah, Shower Door Installation, shower door specialists, tile shower, tiled shower