The Power of 3D Visualization in Interior Design

Posted on October 28, 2020 by H.J. Martin and Son
When it comes to discussing a potential design for a master bath, shower, or even a kitchen backsplash with a customer, making them feel confident in their selections is one of the most important parts of the design process. Creativity is flowing but visually, the customer may be unsure what all the samples will ultimately create, without seeing what it will look like on a larger scale. Getting these ideas and dream concepts into a tangible visual format will show off the beautiful results that your customer will love. The question is, how do you do it?
Hand-drawn Sketches are the First Step
There are a few different ways to bring a project to life right from the start. Whether it be a remodel or new construction project, the designer will usually ask for the floor plan or a photo of the proposed areas that the customer is working on. One of the most basic ways to communicate a design idea is by a 2D sketch. Most designers will compose a hand-drawn sketch of what the layout will look like during the design consult with the customer. These can include basic colors and styles to give you a better idea of what the designer is envisioning.
Take Design to the Third Dimension
From there you can bring the hand-drawn sketch to life through a 3D model with digital design software. 3D visualization imagery lets you quickly work through configurations and build upon the ones you like. With these capabilities, you and your designer can incorporate different finishes and even textures of your chosen elements so that your model closely resembles your design choices, giving the client a glimpse of what their space will look like after installation.
3D visualization design software gives designers the ability to accurately communicate ideas and demonstrate to the customer and the installers how the proposed design will look and ensures that all parties understand all elements of the new interior, potentially eliminating issues. It also offers a higher level of accuracy than a hand-drawn sketch when drawn to scale with the appropriate dimensions.
Mood Boards Draw a Full Room Picture
Another simple way to visually bring a design together is through a "Mood Board." Online platforms like Instagram and Pinterest are currently flooded with 2D images that are positioned to appear as though the overall image is 3D. Sometimes including other design elements like cabinetry, countertops, lighting, hardware finishes and even furniture or curtains on the mood board helps the customer see the whole picture. The best part is there is no need to learn complex rendering software to bring your design to life. By streamlining compositions, designers can produce stunning visuals in a few hours or less – without compromising on quality. Win-win!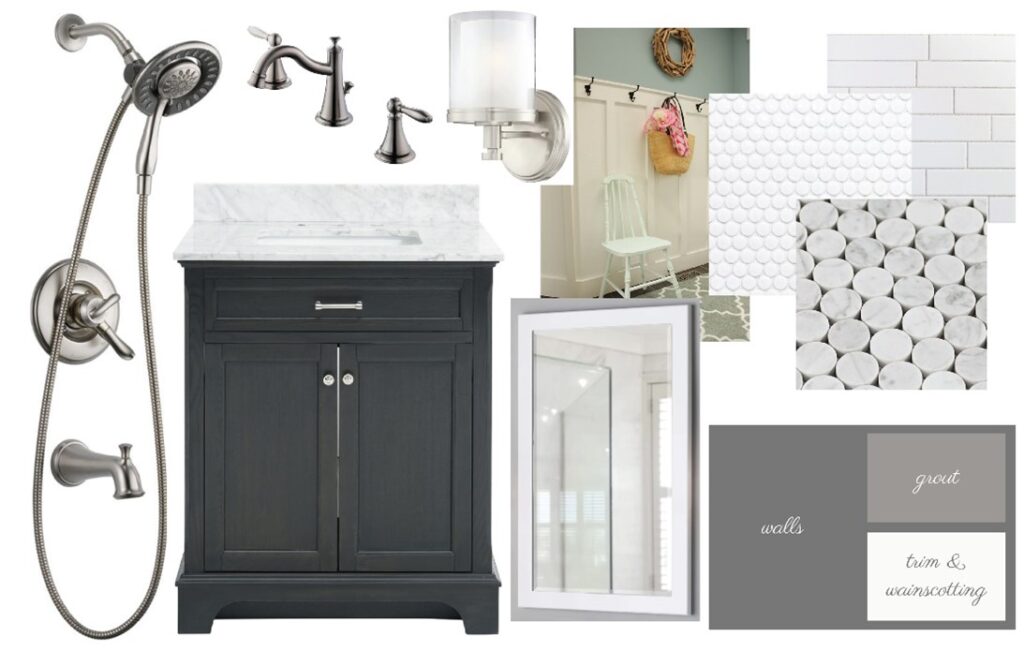 For more information about how H.J. Martin and Son can help you plan your home design or remodel from concept to finish, call our showrooms in Green Bay at 920-494-3461 or Neenah at 920-886-6668 to set up an appointment to meet with a designer. Or you can set up an appointment here! For more immediate inspiration, visit our gallery or Pinterest page.
Tags: 3D rendering, Design Tips, H.J. Martin and Son, H.J. Martin and Son Interior Design, Interior Design