Student intern talks H.J. Martin and Son

Posted on February 23, 2017 by H.J. Martin and Son
My name is Shantel and I got the amazing opportunity to intern with H.J. Martin and Son for two weeks over my winter break.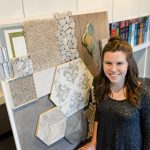 Before I jump in on talking about my time with H.J. Martin and Son, I'll introduce myself. I am a student at the University of Wisconsin-Stout in Menomonie, and I'm currently in the middle of my sophomore year majoring in Interior Design.
Even though all of my Wisconsin friends have taken me in, my home sweet home is still in Fairmont, Minnesota about six hours southwest of Green Bay, practically in Iowa. I'm the oldest of three, a 15-year-old sister and a 11-year-old brother that still take over the house. When I can make it home, I love it (and I'm sure my siblings do too), but school projects and club activities sure keep my schedule filled during the year.
When at school, I work at the University Library, and love it. I am also the Trip Coordinator for Stout's Habitat for Humanity group, where I'm currently organizing our Spring Break trip to Alabama later this year! I play the guitar in our Lutheran Campus Ministry Praise Band and try to get out to Tennis Club as much as I can. I'm a part of the IIDA/ASID chapter on campus and have had some great opportunities through that as well!  I love to run the trails of Menomonie, cook with my mom, shop, drink lots of tea while I procrastinate on projects, and dance off the stress of college with my friends! Generally being happy is on the top of my to-do list. And let me tell you, H.J. Martin and Son was a huge factor in that!
My journey to the winter internship started when I met David Martin, H.J.'s fourth generation leader, at a Career Fair at Stout in October 2016 and knew the company was something I needed to look into more. Shortly after, I was lucky enough to score an internship with the designers.
To be honest, I was a little nervous coming to Green Bay all by myself (I'm sure you could ask my mom if she was too).  However, once I started, I instantly loved it. Everyone at H.J. was unbelievably welcoming and I quickly adjusted to the environment. Their positive atmosphere was always something to look forward to in the morning!
I think I met at least three new people every day, it was great! I got to attend a few meetings, learn about various tiles through awesome demos, and shadow a few designers in action! I also was able to assist in design concept boards and planning showcases for a few home shows H.J. is involved in this spring. Additionally, I also got to apply a few things I've learned in school to the job, one of the biggest being creative problem solving.
The amount of product that H.J. has to offer was awesome. I felt like a little kid in a candy store walking around my first day, overwhelmed and completely giddy at the same time. I learned so much in two weeks.
After working with a few clients next to a designer, I am so confident to say that Interior Design is the right path for me, and I'm ecstatic about it. I am so blessed to be able to have this knowledge of product and client outreach. I will definitely be able to apply this knowledge with me to my classes where most of the students won't have this information. I'll be ahead of the game!
I can't express enough how thankful I am to have had the opportunity work with everyone at H.J. Martin and Son, it was so wonderful and I can't wait to come back for the summer!  Two weeks was crazy, I can't imagine what I'll learn in a few months!
Based on my experience, I would highly recommend this internship program to other interior design students.
Hope to meet you later this summer!
-Shantel
To learn about H.J. Martin and Son employment opportunities, visit: www.hjmartin.com/company/employment.
Tags: Career Fair, H.J. Martin and Son, Interior Design, Intern, Internship, Shantel Quist, Stout, Summer Intern, University of Wisconsin-Stout, Winter Intern