H.J. Martin and Son Installers take Armstrong certification

Posted on February 21, 2017 by H.J. Martin and Son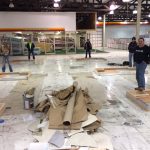 In an effort to provide the highest quality commercial flooring installation to their customers, H.J. Martin and Son recently had six of their installers take the level three Armstrong Certified Installer Program.
H.J. Martin and Son opted to take part in this intensive certification because Armstrong Flooring will be incorporating specific installer qualifications into their material instruction, some of which will require the skills of certified level three individuals.
The two-day certification held in December was facilitated in Green Bay and organized by a representative from Armstrong.
Six H.J. Martin and Son installers who took the certification were really excited for the opportunity. The program was a great way to challenge our installers and to highlight their abilities while helping the company stay on top of our game in the industry.
Installers tasked with the certification program were required to perform a number of installation procedures, including Flash Coving, Cove Cap Installation, Heat Welding and more. Many of the techniques used in the certification are needed for work in places with resilient floor covering, such as hospitals.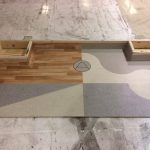 Through this program, H.J. Martin and Son will help our customers take advantage of warranty benefits on the special products tested through the certification, as our team has the backing of Armstrong's certification.
Additionally, Armstrong will track H.J. Martin and Son installers with all levels of their certification program, and will be able to advertise their skills for future projects to general contractors.
These certifications separate the good from the great. It also highlights us as a leader in our industry and shows we have installers with superior capabilities.
For more information, visit our certifications page at www.hjmartin.com/company/why-hj/certifications.
Tags: Armstrong, Armstrong Certified Installer, Armstrong Flooring, Certification, Certification Program, commercial flooring, Cove Cap Installation, Flash Coving, Flooring, Green Bay, Heat Welding, Installation, Resilient Floor Covering