Schluter® shares advances in showers with homebuilders

Posted on May 24, 2016 by H.J. Martin and Son
Schluter Systems® teamed with H.J. Martin and Son on May 17 to help educate Northeast Wisconsin homebuilders on available options in shower systems and heated tile flooring. A dozen area builders attended the 90-minute session held at the company's Green Bay headquarters, where they were greeted by H.J. Martin and Son executives Edward Martin and David Martin, along with being treated to food and beverages catered for the event by Hinterland Brewery of Green Bay.
Jason Brost, North Central territory manager for Schulter Systems®, presented on a number of topics related to the integrated family of products which comprise the Schluter®-Shower System and simplify tiled shower installations.
Brost highlighted the consequences of poor moisture mitigation in traditional shower systems, which use liquid-applied membranes. The Schluter®-Shower System instead utilizes a KERDI sheet-applied membrane, along with the pre-fabricated KERDI shower tray for the floor and the KERDI drain to ensure integration with the waterproofing membrane. Because of these advances in moisture mitigation, the Schluter®-Shower System carries a 10-year warranty on labor and materials.
"We appreciate the opportunity provided by H.J. Martin to share the broad product offerings of Schluter Systems® and to demonstrate how they address moisture-mitigate issues up front," says Brost. "Our shower systems continue to experience double-digit growth. It helps to have a trusted partner in Northeast Wisconsin like H.J. Martin, who can provide expert installation."
Consumers today seek shower-design elements which combine technology with luxury, comfort, relaxation and accessibility, according to a 2014 survey of manufacturers by Kitchen & Bath Design News. Designers Simona Castagna and Darren Genner of Australian design firm Minosa shared with Houzz their belief that walk-in showers with oversize panes of glass or solid walls that completely enclose the space is a trend becoming more popular. Showers generous in size offer a place for rejuvenation and wellness, according to Castagna and Genner.
With this trend, consumers more and more seek built-in seats and benches, along with inset shelves and niches, which can integrate with their shower and maintain the large, barrier-free space. Often this level of elegance will extend to linear drains, allowing for single-sloped floors and large-format tiles.
Fortunately, the KERDI line of the Schluter®-Shower System provides the flexibility for homebuilders to easily add these newly desired shower components for their customers. Brost was able to give an in-person demonstration of the relative simplicity of the Schluter®-Shower System, which all tile installers at H.J. Martin and Son are trained on.
Tag Gunnlaugsson, the in-house showers technician of H.J. Martin and Son, followed Brost with a brief presentation on the types of shower doors available today, including custom options. The shower-door capabilities of H.J. Martin and Son were enhanced with the 2015 addition of Gunnlaugsson, giving the company's customers a more streamlined buying and installation process; Gunnlaugsson provides a single point of contact from measurement all the way through to the in-home install.
"Most people know H.J. Martin for flooring and aren't necessarily aware that we do custom showers," says Gunnlaugsson. "With the increased demand for larger showers that provide luxury, it's helpful to demonstrate our capabilities to the homebuilders of Northeast Wisconsin. Plus, it's a logical extension of the services traditionally offered by our designers."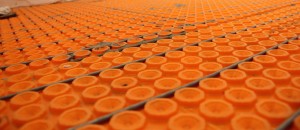 The innovative Schluter®-DITRA-HEAT electric floor warming system – and its ease of installation – also was demonstrated to the homebuilders by Brost. Along with providing crack resistance for elegant ceramic and stone tile floors, the system allows for customizable heating zones. In other words, homeowners can have the heated-floor elements placed only where they want/need them.
Perhaps not surprisingly, sales of Schluter®-DITRA-HEAT have been higher in the North Central region than in any other area of the country since its launch in February 2014, according to Brost. Schluter®-DITRA-HEAT is available through H.J. Martin and Son, and the company's tile installers are trained on the system.
Tags: David Martin, Edward Martin, Fox Valley luxury showers, Fox Valley shower doors, Green Bay luxury showers, Green Bay shower doors, H.J. Martin and Son, heated tile flooring, Hinterland Brewery, homebuilders education, Jason Brost, Northeast Wisconsin homebuilders, Schluter Ditra-Heat, Schluter Systems, Schluter Systems® installer, Schluter®-Shower System, shower systems, Tag Gunnlaugsson