The Hottest Trends from NeoCon 2016

Posted on June 23, 2016 by H.J. Martin and Son
NeoCon 2016 was held June 13-15th at the Merchandise Mart in the sweltering heat, in downtown Chicago. Hot as it was, it still beat the downpour and tornado warnings of NeoCon 2015! Attendees were welcomed bright and early Monday morning to the completion of a $40 million renovation of the ground-level common spaces. At the center of the renovation, a 50-foot-wide marble staircase connecting the first and second floors. The new space allows for more than 200 to people to rest, eat lunch, or use the free wi-fi. This is a welcomed upgrade from the limited seating of past years.
Color Trends: A few color observations when walking through the showrooms. In clothing the common color was Cobalt Blue. Everywhere we went, men and women were dressed in Cobalt Blue! There were many more green tones in the flooring than ever before. Some showed three or four shades of green within a collection.
Showrooms: In year's past, design inspiration was derived from biopic design. Bringing the beauty of nature in through color, light, and organic textiles. This year it is as if they turned the table onto its evil, darker side. Most manufacturers took their inspiration from the dark, desolate, dirty sides of nature…the polluted and the abandoned.  The unwanted and unwashed and created it into something beautiful…. something we would want in our environment versus turn away from.
Bentley Prince Street
Bentley got their inspiration from Los Angeles, or "(Los)t Angeles" as they coined. Designers from Bentley Prince Street pulled inspiration from LA, but not the beautiful parts that we know from Hollywood and on TV. But from an abandoned zoo and the Salton Sea. Just googling images of the Salton Sea bring up images of death, dirt, and deserted. Aptly named Trespass and Underground, the carpet shows bright light, dark shadows, and everything in between.
Their showroom also featured the fun activity of getting your Aura read. (Below from the left: Shots of their inspiration, Underground Carpet, Aura Reading, Aura Photo)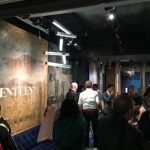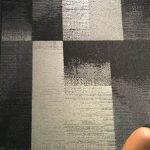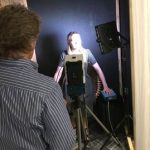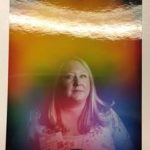 Mannington Commercial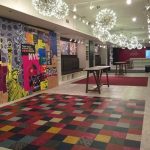 Mannington changed their entire room from one day to the next. Flooring, Paint, Lighting, EVERYTHING! They had a 3-D rendering on a screen that allowed you to toggle between the bright colors of Monday's showroom and the quiet neutrals of Tuesday's. Mannington teamed up with One Global to create the Infused LVT collection. Inspired by 5 different cities: New York City, Chicago, Philadelphia, Mexico City, and Atlanta, this collection can be both bold and neutral. Mannington won Best of NeoCon Silver and a HiP award from Interior Design Magazine for Infused.
Milliken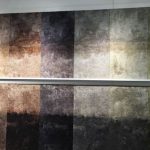 I loved Milliken's modular carpet. It looked like concrete.  The concept of the design was to look at the common and the uncommon, earthed and unearthed, to create Lapidus. The warm and cool tones of the browns and greys, are meant to look like concrete but to have the luxury of cushion backed tile.  It has 60 Colorways and it is 3 groups of 20. The reason for this is to be used as stand alone colors or gradation. Giving a lot of flexibility to really create the design you want. Lepidus (shown here) received Best of NeoCon Gold.
Interface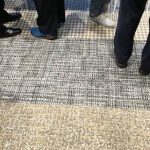 Interface took highlighting negative and creating it into a positive to a WHOLE other level. They presented their World Wovens Collection (shown here) by surrounding the carpet sample with photos of garbage, smog, and pollution. This does mirror their initiative of Mission Zero® (zero environmental impact) by 2020. They rolled out their new initiative called Climate Take Back Program. This collection received a Best of NeoCON Silver Award and a HiP Award from Interior Design Magazine.
Mohawk Group
Mohawk, in collaboration with 13&9, came up with a broadloom carpet that is inspired by the abstract patterns of the landscape of the moon. By using precision dye injected graphics over textured pattern, they were able to create contours, contrast, and shading. Each colorway will be offered in light, medium and dark color values that can be used together or alongside a coordinating colorway.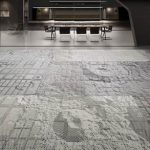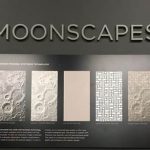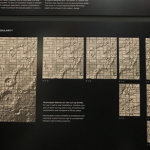 NeoCon: Taking place at The Merchandise Mart in Chicago since 1969, NeoCon is the largest commercial interiors show in North America. In nearly 50 years, NeoCon has evolved into one of the most recognized and attended trade shows in the industry. The three-day event attracts 50,000 design professionals and showcases hundreds of cutting-edge exhibitors.  The exhibition is complemented by first-class educational programming featuring over 100 accredited seminars, association forums, special events and keynote presentations that showcase leading industry and business experts. Source: www.NEOCON.com
Tags: Bentley Prince Street, Best of NeoCon, Chicago, Cobalt Blue, commercial flooring, Commercial Interiors, Commercial Showrooms, Flooring, Flooring trends, Infused LVT Collection, Interface, Lapidus, Mannington, Milliken, Mission Zero, Mohawk, Moonscapes, Neocon, NeoCon 2016, The Merchandise Mart, Tradeshow, World Wovens Collection