H.J. Martin ascends among 'Top 50 Glaziers' of Glass Magazine

Posted on June 17, 2016 by H.J. Martin and Son
From its home in Northeast Wisconsin, H.J. Martin and Son continues to rank among the largest commercial glaziers in the country. The company has ascended to 34th place for 2015 in the prestigious 'Top 50 Glaziers' list of Glass Magazine, up two spots from the year prior.
Glass Magazine editors annually compile the publication's Top 50 rankings of largest contract glazing firms, based on sales volume. Unveiled in the June 2016 issue, H.J. Martin and Son is the only firm headquartered in Wisconsin to make this year's list.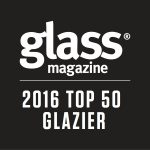 The rise of H.J. Martin and Son in the 2015 rankings is attributable to a 2.3-percent increase in sales over fiscal 2014. Even with its recent sales growth, challenges remain for the company.
Kevin LaPoint, vice president of commercial glass & entrance divisions for H.J. Martin and Son, was quoted by Glass Magazine on the ongoing need for glaziers.
"Finding skilled installation labor continues to be a challenge," LaPoint told the publication.
The company has 64 full-time employees in its glass and glazing division. However, with involvement in several large-scale glass projects this year that will continue into 2017, the demand for installers is not likely to cease any time soon, according to LaPoint.
Glass Magazine is the official publication of the National Glass Association, and serves primary glass manufacturers, glazing contractors, glass retailers, glass fabricators and architects. It provides coverage of industry news, product introductions and trends analysis monthly.
Tags: Glass Magazine, H.J. Martin and Son, Kevin LaPoint, largest commercial glaziers, National Glass Association, Northeast Wisconsin glaziers, Top 50 Glaziers