Curb Appeal in the Valley

Posted on June 27, 2016 by Karen Siegrist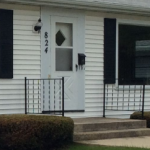 At H.J. Martin and Son, usually we're seeing change on the interior, but here I'd like to highlight a beautiful exterior change on my own home in the Valley. Last year I bought my 5th 'fixer upper' and got started right away on changing the curb appeal. The house was built in 1956 and the 60-year old boxwood shrubs looked tired and needed to go! And the front door was extremely out of date.
I started with removing the shrubs and the black iron railing. Next I changed out the light fixture. I needed to start adding some character to the house, so I purchased an inexpensive light fixture at a local hardware store. It was time to give this house a bit of a Craftsman feel and the Craftsman style has always been my favorite!
I purchased a larger mail box and installed it on the house rather than on the door trim, as it was prior. Then came my favorite part of a home…selection of the front door.  I absolutely love front doors! There are so many styles and endless color options. For this house I already knew I was going to do a Craftsman look and chose a 6 light over 2 panel door from Thermatru. I chose Classic Blue as the color and had it finished at the factory.
I then hired my friend and remodeler, Joe Keesler, to install the door and help me choose the right door trim. I was more than ready to change out the aluminum wrap that was currently there. Joe suggested to trim out the door with a composite that looked like cedar and then paint it white. It has a deep texture and I absolutely love it!
The final steps were so important to pull everything together. It was time to go shopping for new house numbers, which is like shopping for jewelry for an outfit. It needs to fit the style of the home! I purchased new metal house numbers in black and installed them. The final touch was hanging my American flag. Now every day when I pull into my driveway I smile. I love my new curb appeal and so do my neighbors!
If your home needs a little refresher, take a look at your curb appeal. With just a few changes, you can bring new life to your home. And if you're looking for help on the inside, stop in to our Fox Valley showroom…we'd love to talk through your next project.
Tags: Classic Blue, Craftsman, Curb appeal, Exterior door, Fox Valley, H.J. Martin and Son, Home exterior, Interior Designer, Karen Siegrist, Thermatru