H.J. Martin earns 'Top 50 Glazier' Status

Posted on July 15, 2020 by H.J. Martin and Son
H.J. Martin and Son remains one of the national leaders within the glass industry. For the fifth time in the past six years, the company has been named to the prestigious 'Top 50 Glaziers' list of Glass Magazine.
Unveiled in the publication's May/June 2020 issue, this year's 'Top 50 Glaziers' list of largest contract glazing firms (based on sales volume) ranked H.J. Martin and Son at No. 47. The company is the only one headquartered in Wisconsin (Green Bay) to make the annual compilation of top glaziers.
A major Glass & Glazing project that contributed to the lofty ranking of H.J. Martin and Son was the new SECURA Insurance Companies headquarters building in Fox Crossing, Wis. HJM handled all of the glass & glazing for the 300,000-square-foot, $98-million structure set on almost 200 acres, where a wall of windows looks out on trees, ponds, wetlands, a cornfield and a solar-panel field.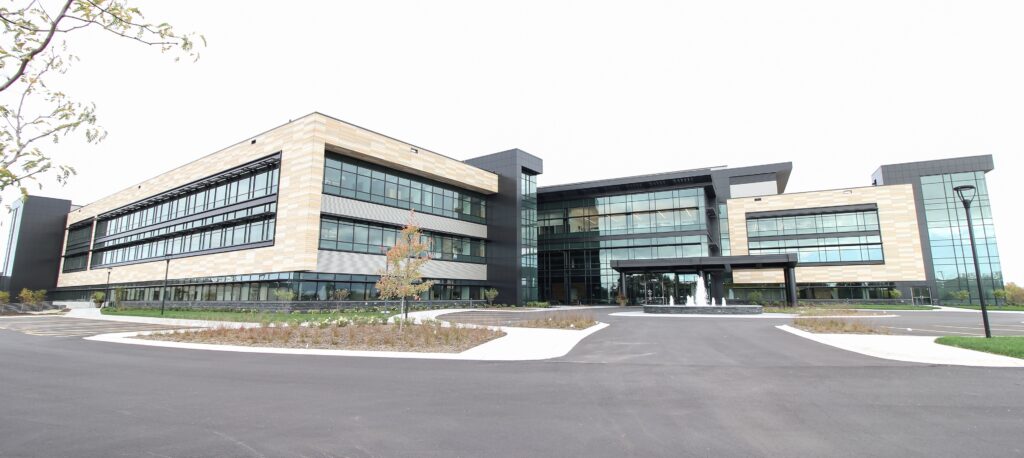 The exterior glass work revolved around 6-, 7.5- and 10.5-inch curtainwall framing – all of which was painted black with three coats. Other related work included sun shades, Guardian Vision Glass, Guardian Silk Screen Glass, entrances and a glass railing system.
The interior glass work also was extensive. It included all glass entrances and glass sliding entrances, glass walls, Smoke Baffle™ System glass at stairwells, shower doors, mirrors and restroom stall glass doors, along with aluminum doors and interior door frames.
A crew ranging in size from 10-15 company installers worked on site at the new SECURA headquarters over a 16-month period from March 2018 through June 2019.
H.J. Martin and Son maintains the highest level of equipment and technology within its Glass & Glazing division. Among the company's equipment is a state-of-the-art, aerial robotic glass/frame handler, which is remote controlled, picking up glass and/or framing units to reduce physical lifting and strain on the company's field installers. It also utilizes Blue Beam software.
The company has 51 full-time employees in its Glass & Glazing division.
Glass Magazine is the leading trade publication of the architectural glass and metals industry. The official magazine of the National Glass Association, it serves glazing contractors, full-service glass companies, fabricators, manufacturers and architects through coverage of glass-industry news, trends and analysis, along with product introductions and best business practices.
Tags: Blue Beam software, Glass Magazine, Guardian Glass, H.J. Martin and Son, National Glass Association, SECURA Insurance Companies headquarters, Smoke Baffle System, Top 50 Glaziers