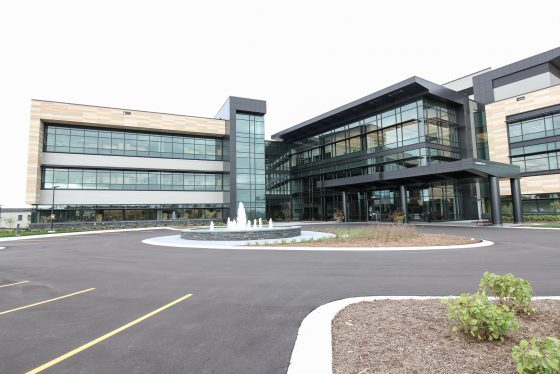 Case Study
SECURA Insurance Companies
Project Divisions: Flooring & Ceramic Tile, Glass & Glazing
Location: Fox Crossing, Wis.
Completion Date: October, 2019
Project Description:
SECURA is a mutual insurance company represented by 550 independent agencies in 12 states. Based in Northeast Wisconsin since its founding in 1900, SECURA had grown to annual revenues of $730 million and 750 local employees.
With its employees split between two nearby buildings, the company desired to bring its people-focused culture and spirit of wellness under one roof. SECURA made the decision to construct a new 300,000-square-foot, $98-million headquarters.
With an environmental heritage, SECURA named the three floors of its new headquarters after water, trees and birds, along with utilizing reclaimed wood in the interior décor. The modular building, set on almost 200 acres, also has a wall of windows that look out on trees, ponds, wetlands, a cornfield and a solar-panel field.
H.J. Martin and Son handled all of the glass & glazing, along with the flooring, for this beautiful new structure. The exterior glasswork revolved around 6-, 7.5- and 10.5-inch curtainwall framing – all of which was painted black with three coats. Other related work included sun shades, Guardian Vision Glass, Guardian Silk Screen Glass, entrances and a glass railing system.
The interior glasswork also was extensive. It included all-glass entrances and glass sliding entrances, glass walls, Smoke Baffle™ System glass at stairwells, shower doors, mirrors and restroom stall glass doors, along with aluminum doors and interior door frames.
The Glass & Glazing division utilized a crew ranging in size from 10-15 company personnel, working on-site over a 16-month period from March 2018 through June 2019. It successfully met challenges that included the winter weather conditions of Northeast Wisconsin, along with schedule and building enclosure deadlines.
The company's Commercial Flooring division joined the project for the final three months leading up to completion in October 2019. Two to four installers from H.J. Martin and Son utilized a variety of flooring products in their work.
The new SECURA headquarters used colors as a wayfinding tool, including a different accent color on each floor to match its nature themes of water, tree and birds. Contrasting patterns denoted walkways from open office areas.
Flooring products installed included those from Tarkett, Tandus Centiva, Johnsonite, Mannington and UZIN.
With the structure including several amenities designed to improve worker health – a full gym, exercise room, yoga room, on-site medical clinic and café – specialized flooring also was part of the installation. These products provided the needed performance while matching the building's themes.
---
Navigate Featured Projects
Connect With A Specialist