How to make a family home makeover happen

Posted on February 9, 2017 by Karen Siegrist
What do you do when you outgrow your home, love your neighborhood and don't want to move?
Why, you remodel of course!  Come along on this journey as a busy family of five lives through a remodel.
Let's start by mentioning there WILL be dust.
My first suggestion to you is plan, plan and plan some more.  For best results, I suggest working with an architect.
In this case, Paul De Leeuw delivered a floorplan that was absolutely perfect for this evolving family.  The plan included adding onto the home to reconfigure the kitchen, dining, mudroom and laundry, while adding a drop center and storage that was organized to fit the family needs.  This new plan specifically has storage set aside for backpacks, gym bags, tennis equipment, hats, mittens, scarves, gloves, iPhones, iPads, cords and house keys – everything conveniently was given a space to be kept in, but not seen.
Next, you hire the right contractor to bring this plan to life.  Paul Driessen of Timber Innovations brought his many years of experience to the project, and he is a true craftsman.  Paul is an active member of NARI, the National Association of the Remodeling Industry.  Paul not only was the contractor, but he built the custom cabinetry and storage for this project.
After the addition was up and framed, the interior was zipped up for dust containment.  Did I mention dust?
The family converted the bar area in its basement to serve as a makeshift kitchen while the main floor was gutted.  Once the new framing was up, it was so exciting to see how much space there was and how the new space would flow.
Before the makeover, the kitchen was dark and the east wall was filled with cabinets.  After the makeover, the east wall is filled with windows and light pours into this kitchen, along with providing a beautiful view to the lake.
This larger, brighter kitchen has painted craftsman-style cabinets using Sherwin Williams 7052 gray area.  A new large stainless farmhouse sink was installed with gorgeous, glass pendants over the island.
The new wooden range hood was installed and dimensional arabesque tile in three colors finishes off the backsplash.  One thing you don't see on the stove wall is outlets.  They are there, just cleverly hidden.
All of the new flooring in the makeover is LVP – a vinyl plank that looks like wood.  Not only is it a rich, handsome look, but it easily is maintained by this family of five.
This home has really evolved to fit this family's needs.  They love their makeover, thanks to an amazing plan from Paul De Leeuw and the craftsmanship of Paul Driessen.  I provided the needed interior design, and our wonderful installers here at H.J. Martin and Son completed the look.
We look forward to assisting you with your own makeover dreams! Learn more online at www.hjmartin.com!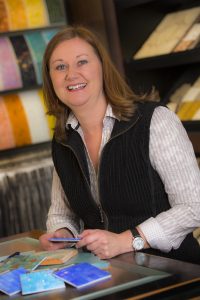 By Karen Siegrist, Interior Designer
Tags: Carpet, ceramic tile, family home makeover, Floorcare, hardwood, Karen Siegrist, laminate, Luxury Vinyl Plank, Luxury Vinyl Tile, NARI, National Association of the Remodeling Industry, natural stone, Paul De Leeuw, Paul Driessen, Shower Doors, Tile, Timber Innovations