H.J. Martin and Son featured on cover of Walls & Ceilings

Posted on November 3, 2016 by H.J. Martin and Son
A 2016 'Top 50 Contractor' of Walls & Ceilings magazine, H.J. Martin and Son is featured on the cover of the November issue of the nation's preeminent industry publication.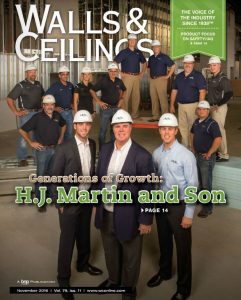 The generational legacy of the company, now in its fourth generation of leadership, is a primary focus of the accompanying story.  CEO Edward Martin is joined in the family business by sons David and Joseph.
Within the article, Martin talks about the strong fourth quarter the company's Walls and Ceilings division is experiencing in 2016.  "Things usually slow down at this time of the year – but not this year," he told the magazine.  "We are starting (a) major drywall project in Michigan's Upper Peninsula and just got a remodeling project for 35 Menard's stores."
He goes on to mention how H.J. Martin and Son looks at difficult projects as opportunities for growth, along with how the company's willingness to travel for projects gives it a competitive advantage in the market.
Walls & Ceilings serves the interior and exterior wall and ceiling industry with the latest news and information regarding building methods, drywall, stucco/EIFS, ceilings, acoustics, steel framing, insulation, plaster technology and regulations in the market.  It has been regarded as, "The Voice of the Industry since 1938."
Tags: David Martin, Edward Martin, H.J. Martin and Son, Joseph Martin, Walls & Ceilings Top 50 Contractors, Walls and Ceilings