H.J. Martin achieves third consecutive ENR Top 600 ranking

Posted on November 1, 2016 by H.J. Martin and Son
H.J. Martin and Son has continued its lofty standing as one of the leading specialty contractors in the United States with a third consecutive appearance on the prestigious ENR Top 600 Specialty Contractors list. The fourth-generation, family-owned company ranked as the country's 216th largest specialty contractor in the 2016 compilation, released in the October 24 issue of Engineering News-Record.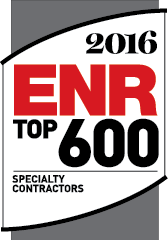 The company's Glass & Glazing division helped lead the way, coming in 18th nationally under the Glazing and Curtain Wall rankings of ENR.
Among specialty contractors based in Wisconsin, H.J. Martin and Son ranked eighth.  The only larger firms in the state were: Safway Group of Waukesha (6), Faith Technologies of Menasha (38), Azco of Appleton (82), J.F. Ahern Co. of Fond du Lac (85), Ryan Inc. Central of Janesville (170), Grunau Co. of Oak Creek (197) and Edgerton Contractors of Oak Creek (206).
ENR ranked companies according to 2015 construction revenue in ($) millions from specialty contracting in a prime or subcontracting capacity.
Tags: Engineering News-Record, ENR Top 20 in Glazing and Curtain Wall, ENR Top 600 Specialty Contractors