2020-2021: The Home Renovation Years

Posted on November 18, 2021 by Tori Korstad
It is not surprising that over the last two years you and everyone around you have started a home project, be it landscaping updates, a kitchen remodel, or even a new home build. Regardless, the construction industry has been booming. According to IHS Markit, home improvement companies saw an 8.5 percent increase in sales in 2020-2021. H.J. Martin and Son is no exception, and our own employees are taking advantage of their time at home to make some updates.
Neenah-based Interior Designer Tori Korstad and her husband just put the finishing touches on a semi-DIY remodel on their second-floor, converting a bedroom to a bathroom.
"We talked about this project shortly after we moved in," Korstad said. "Once we found ourselves spending more time at home, we started chipping away on the remodel as we had time."
Knowing that not everyone has easy access to interior designers and contractors, Korstad has put together a number of ideas for others to consider when working on a remodeling project.
DIY vs. Hiring
Draw the line on what you can and cannot do.
Tori and her husband had a list of things they felt comfortable doing, and she suggests only DIY'ing what you truly can handle.
"It's so easy to get a grand idea and think that you can easily get a project done until the walls start coming down and you find yourself face-to-face with a project that is just a little too big for YouTube tutorials," Tori said.
For example, the Korstads were able to do all the demolition of their remodel on their own, but they hired a plumber to take on installing the piping for the sink, shower, and toilet because that was out of their skill set.
Another upgrade they did on their own was to put a peel-and-stick film over an existing window to offer privacy in the bathroom. They could have had the window replaced, but this was a simple, economical, and non-damaging fix.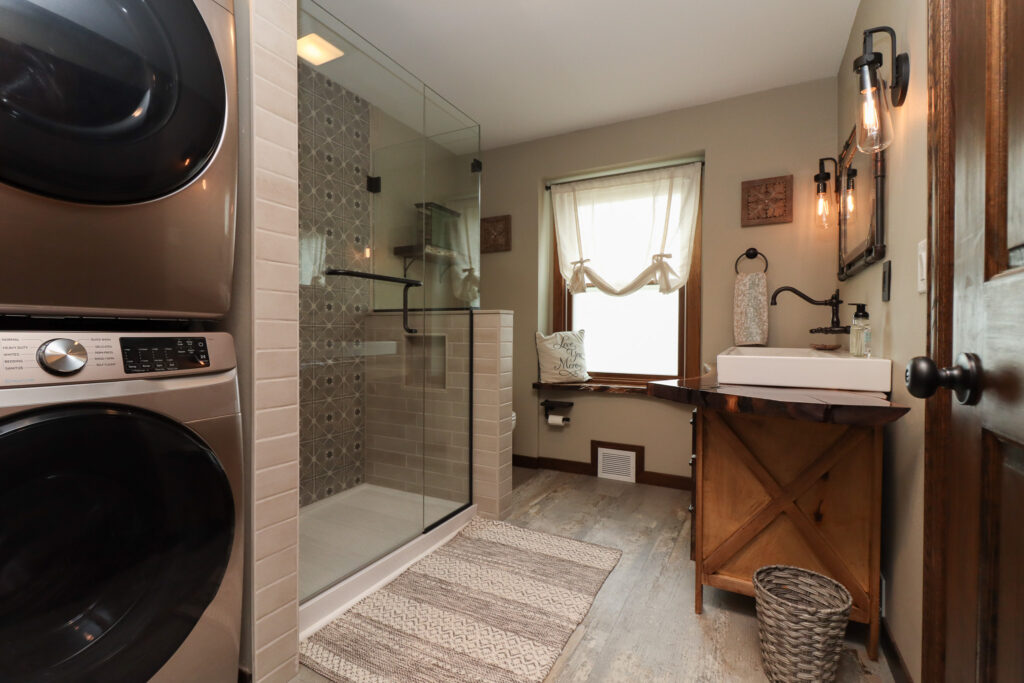 Permitting
Know your municipality's building permit rules.
Certain projects require building permits. For their city, they required a building permit because they were adding new plumbing to their home.
"If we had worked on the project without a permit, any new appraisal on our home could be null and void and not add any resale value to our home," Tori said.
There is no reason to avoid getting a building permit, the cost is low, and meeting the requirements is not hard if installations are done properly, ie. hire when you need to. The easiest way to figure out your area's building permit rules is by visiting the municipality website or calling your town or city.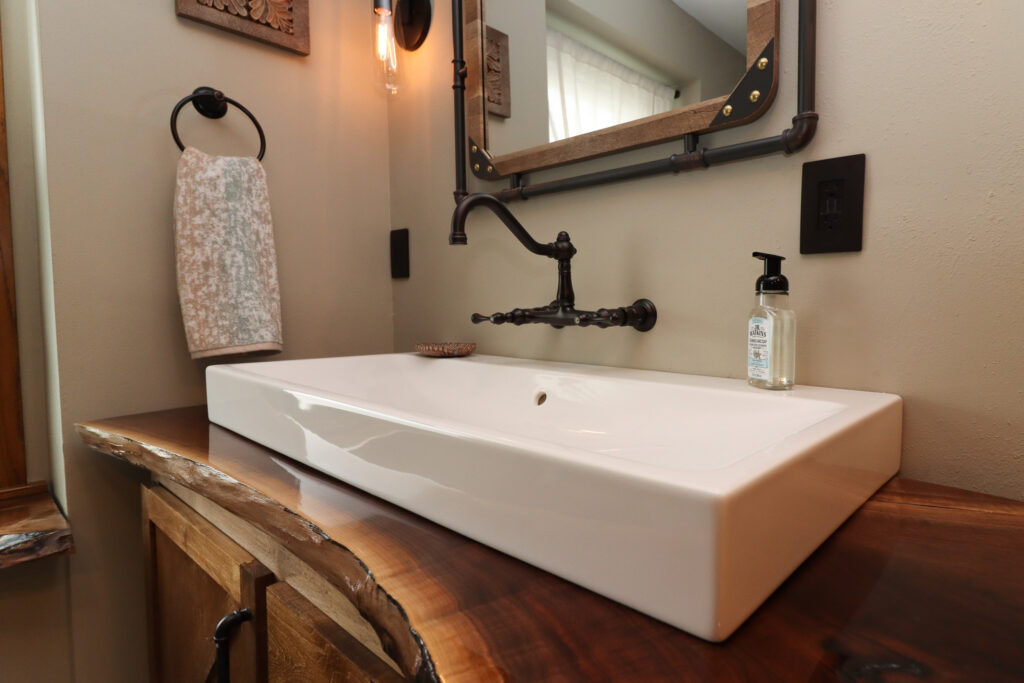 Get Creative
Find interesting ways to spice up your home projects.
Tori wanted a few eye-catching pieces in their remodel. One of the features is their vanity countertop. It's a beautiful wooden slab they cut and planed to fit in the space. She applied a two-part epoxy to seal it from moisture and really make the wood grain shine. They did all the finishing work including staining of the maple vanity as well.
Another key aspect is the tiled walk-in shower. The glass shower door was installed by H.J. Martin and Son, and the shower pan was done by their plumber. Tori and her husband selected the materials and installed the gorgeous tile.
"I wanted a few pretty things to make the space unique, without making it over the top," Tori explained. "We made sure all the elements flowed together."
The shower's back wall features a full accent wall with decorative tile in green, cream, and black. The rest is a neutral elongated subway tile, which is a little more subtle, allowing it to be unique and not overwhelming. However, the tile is installed in a non-traditional stagger pattern.
Be Patient
With today's shipping issues and the fact that so many people are hiring construction professionals, patience is key in finishing your projects.
Tori said they selected their material first, like the flooring and shower tile. They had to wait on certain things, but the key is to do things as they come.
"The project will come together if you stick to your vision," Tori said.
If you need inspiration for your next project, visit our Pinterest page or website gallery. To contact Tori at our Neenah location, call 920-886-6668.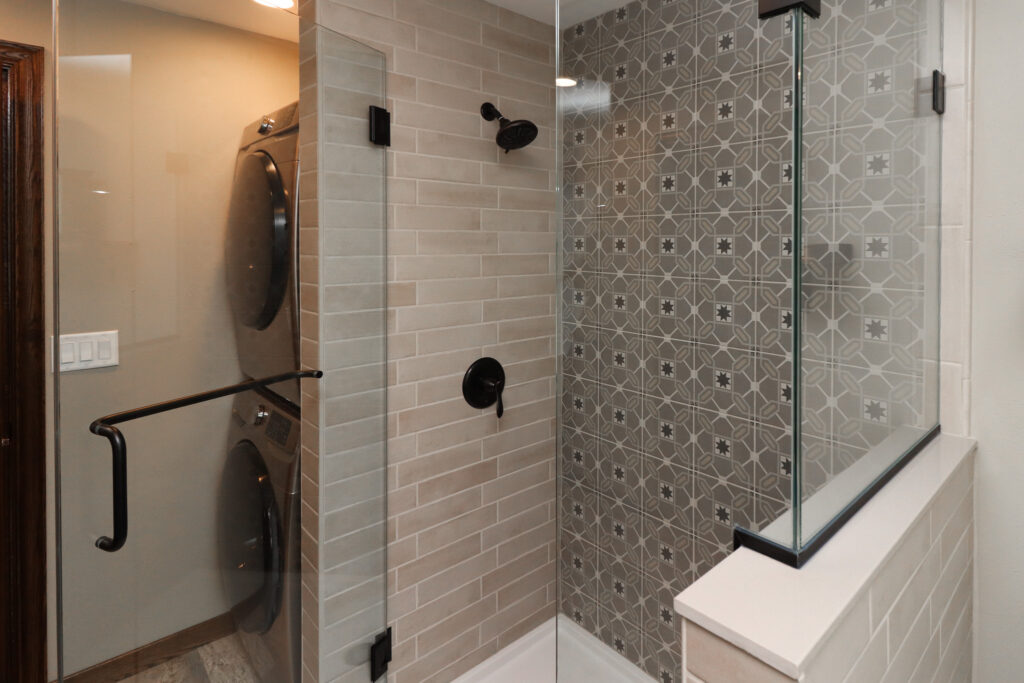 Tags: DIY, Flooring, Fox Valley, H.J. Martin and Son, home and garden, Home remodel, Interior Design, Neenah