H.J. Martin and Son plays role at Bubolz Nature Preserve facility
Posted on February 23, 2018 by H.J. Martin and Son
H.J. Martin and Son recently participated in a community project that will benefit Northeast Wisconsin residents for years to come, a new facility at the Gordon Bubolz Nature Reserve which opened in January 2018.
Located in Grand Chute, Wis., the Bubolz Nature Preserve has a mission of teaching environmental ethics through education, recreation and conservation while promoting an appreciation of nature. First opened in 1981, it plays host to approximately 6,000 school children on field trips each year, along with nature enthusiasts of all ages.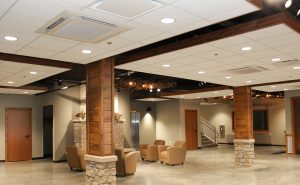 Having outgrown its original space and desiring to expand its event space, the Bubolz Nature Preserve undertook three years of planning and construction on a $5.5-million nature center. At 18,000 square feet, the new facility would be more than triple the size of the center's former space.
The enhanced nature center was designed to offer additional event space to rent out, to support educational program expansion and to improve the quality of existing recreational opportunities. Among the new areas is a nature-nook public library and student research center dedicated to environmental education; expanded exhibit spaces; an environmentally themed toddler play area; classrooms; and a refreshed gift shop and café.
Larger spaces for visitors to interact, including meeting rooms, patios, decks and a banquet facility for meetings and events, also were central to this project.
H.J. Martin and Son lent its expertise to two areas of this community-based project, walls & ceilings, along with polished concrete.
The company's Walls & Ceilings team installed 10,000-square-feet of acoustical ceiling tile, much of it in the banquet and event space.  In conjunction with those areas, H.J. Martin and Son also put four new operable partitions in place.
The 3-4 person installation team of H.J. Martin and Son successfully met an important challenge. With several ceiling clouds in the new facility, it was important that wood trim be supported at the ceiling cloud perimeters.
A popular flooring trend because of its superior durability, maintenance ease/cost and performance, polished concrete was the choice for 6,000 square feet within the new Gordon Bubolz Nature Reserve. A national leader in concrete polishing, H.J. Martin and Son utilized one crew of three technicians on this project.
All polished concrete work was completed efficiently over a one-week period just prior to the nature center's opening, experiencing no major obstacles.
Tags: acoustical ceiling tile, environmental education, Gordon Bubolz Nature Reserve, H.J. Martin and Son, Northeast Wisconsin nature center, polished concrete