Course on hard surface flooring prep shared with local building professionals

Posted on February 20, 2018 by H.J. Martin and Son
For the third year running, H.J. Martin and Son opened the doors to its Green Bay Design Showroom to local building professionals to offer a course through the Brown County Home Builders Association.
H.J. Martin and Son hosts these educational events to help the local building community learn more about flooring, installation techniques, and new products to ensure shared customers receive the best results during a new home build or remodel project. On Feb. 20, 2018, vendor representative Corey Cheney from Kentwood Floors teamed up with H.J. Martin and Son Residential Crew Coordinator Brian Valentine and Claims Manager Al Brandner to discuss Hard Surface Flooring Installation Prep.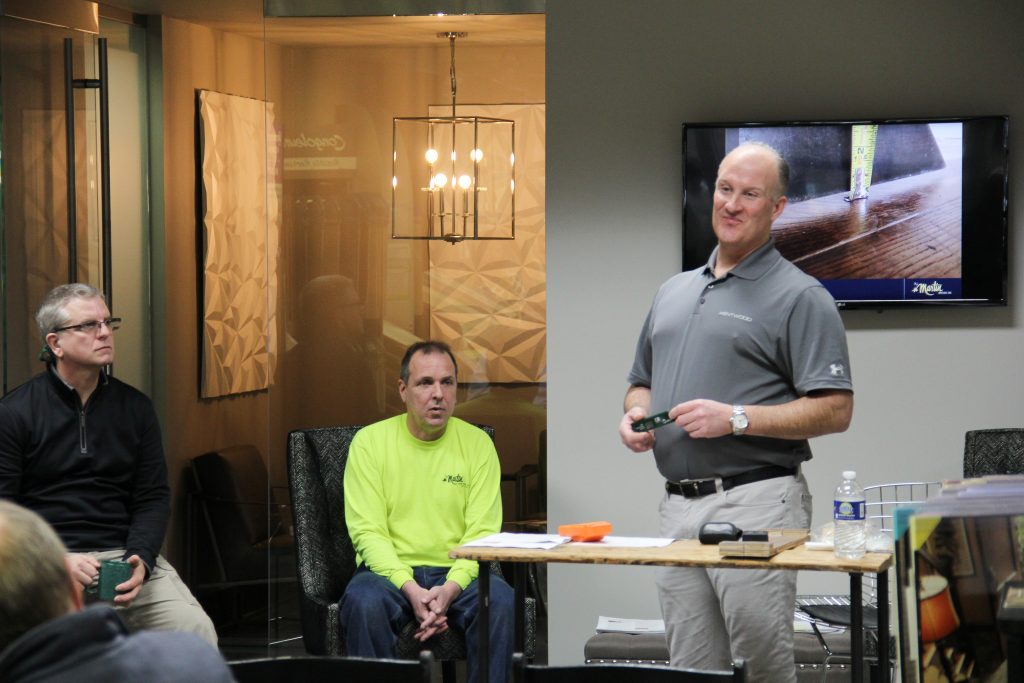 Cheney primarily discussed installation prep for hardwood, while Valentine and Brandner were able to inform about vinyl and resilient products. They talked through common mistakes that would cause the flooring to gap, buckle or creak when walking on it, and how to prevent this in the future.
The main point Cheney worked to teach was, even if our teams have been preparing homes for new flooring one way for years and have been successful, we need to learn to adapt with how products are changing.
The most important thing to consider when preparing a home for hardwood (and other hard surface products) is to ensure the heating, ventilation and air conditioning (HVAC) systems have been up and running for about a week at approximately 60 degrees Fahrenheit.
Additionally, flooring should not be installed if the home exterior is not closed. Meaning all doors, windows and the roof should be complete.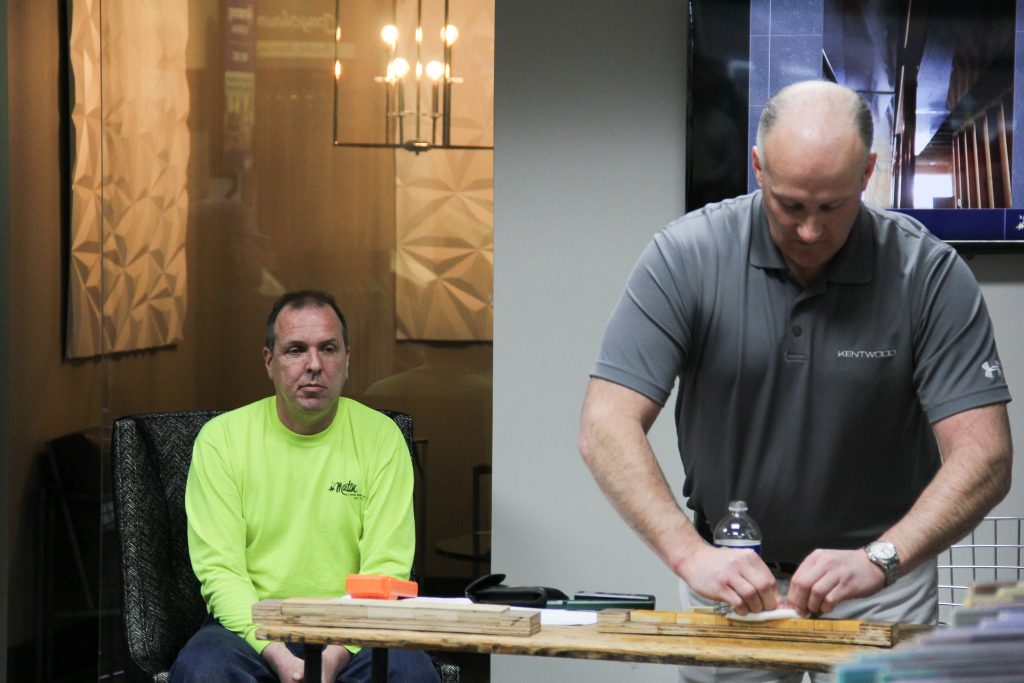 Hardwood and some other hard surface materials are really susceptible to moisture. They will expand and contract depending on the humidity and moisture levels they are exposed to. Considering this, when building or remodeling, it is always best to have concrete poured and dry, drywall finished and painting completed before the flooring is installed.
Vinyl planks can react a lot like wood to moisture and how a house acclimates. Cabinetry can even force flooring to buckle if moisture and temperature are not controlled.
Doing all of this will help warrant the product and installation. Manufacturers of flooring products offer very specific specs for installation, and should always be followed for the best results in a finished product.
An essential part of this is to educate homeowners as much as possible about how to heat and cool their homes in accordance with flooring. It is necessary to keep customers informed about what they are purchasing, and how to keep their warranties valid.
Cheney explained there are now some new tools called Thermax Strips to use to help determine if there is some kind of HVAC failure. These strips are basically thermometers installed under the flooring, and allow us to pinpoint causes of gapping hardwood or buckling seams. If there is an issue, this tool can help with insurance.
For more information about hard surface flooring, contact a designer at www.hjmartin.com/company/contact/ or visit our online gallery at www.hjmartin.com/residential/gallery/.
Tags: Brown County, Brown County Home Builders Association, continuing education, Green Bay, hard surface flooring prep, HJ Martin and Son, kentwood floors