H.J. Martin honored with AGC Wisconsin Award

Posted on October 8, 2019 by H.J. Martin and Son
Company wins 23rd overall AGC Award for The Spark of American Family Insurance in Madison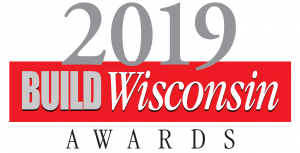 Green Bay, Wis. – The Associated General Contractors (AGC) of Wisconsin has honored H.J. Martin and Son with a 2019 BUILD Wisconsin Award in the Specialty Contractor-Finishes category for its work on The Spark of American Family Insurance in Madison, Wis.
This marks the 23rd AGC award received by H.J. Martin and Son since the inception of the honor in 2003.  It also continues a streak of 12 consecutive times (2007-14, 2016-19) that the company has been recognized by the AGC of Wisconsin (the awards were not given out in 2015).
The award will be presented to members of the H.J. Martin and Son team at the AGC BUILD Wisconsin Awards Ceremony, Oct. 17 at the Edgewater Hotel in Madison.
"Winning this award really reflects the outstanding work of our employees, especially that of our tile installers," says Edward Martin, president and CEO of H.J. Martin and Son. "The level of craftsmanship they demonstrated on this project is something that our company can take great pride in. We thank the Associated General Contractors of Wisconsin for recognizing their work and the partners who entrusted us to be involved with the project."
The Spark of American Family Insurance is an eight-story, 158,000-square foot building in the Capital East corridor, constructed at an estimated cost of $55 million. It houses 300 employees, primarily from the company's venture-capital, community-investment and digital-transformation divisions, along with its just-launched American Family Insurance Institute for Corporate and Social Impact.
H.J. Martin and Son installed stunning wall tile, along with flooring products, on the project. It also was the largest installation of Tate® access flooring in company history: 119,000 square feet. The tile work was performed with a significant amount of craftsmanship, particularly with the backsplashes and in the facility's three coffee bars. Fireclay Picket handmade tile was mixed and matched with two color designs in each coffee bar, with the H.J. Martin and Son installer meticulously placing each tile in an intricate pattern to create the design envisioned by the project architect.
Crossville Laminam large-format porcelain tile, a variety of Milliken carpet products, J&J Invision carpet tile and three different luxury vinyl tile products were among the other materials also installed on the project.
The Associated General Contractors of Wisconsin is the leading professional trade association for the commercial construction industry in the state of Wisconsin. Known as the voice of the construction industry, this chapter of the AGC of America provides its members with a comprehensive and invaluable array of educational, safety, environmental, labor, legal, legislative, public relations and industry-relations products and services. The association promotes skill, integrity and responsibility within the construction industry.
AGC of Wisconsin selects winners of the BUILD Wisconsin Awards based on craftsmanship, meeting difficult challenges, community and client impact, and sustainable practices and innovation.
Tags: AGC Build Wisconsin Awards, Associated General Contractors of Wisconsin, Crossville Laminam, Edward Martin, Fireclay Picket handmade tile, H.J. Martin and Son, Specialty Contractor Finishes, The Spark of American Family Insurance, Wisconsin Specialty Contractor, Wisconsin Tate access flooring