H.J. Martin takes part in unique entrepreneurial project

Posted on August 22, 2019 by H.J. Martin and Son
H.J. Martin and Son took part in a unique project that will serve Wisconsin entrepreneurs, especially those of color and female business owners, along with addressing social issues. The company installed stunning wall tile, plus flooring products and Tate® access flooring, at The Spark of American Family Insurance, located in Madison, Wis.
American Family Insurance, which is the nation's 13th-largest property/casualty insurance group, constructed an eight-story, 158,000-square foot building in the Capital East corridor of its home city at an estimated cost of $55 million. The new facility houses 300 employees, primarily from the company's venture-capital, community-investment and digital-transformation divisions, along with its just-launched American Family Insurance Institute for Corporate and Social Impact. The institute uses entrepreneurial thinking, processes and partnerships to address social issues.
H.J. Martin and Son personnel installed dazzling wall tile on this modern, environmentally sustainable project, demonstrating a significant amount of craftsmanship. Wall tile was utilized for the backsplashes; a handmade tile, its colors and design provided a brilliant look.
The tile installation was taken to the highest level in the facility's three coffee bars. Fireclay Picket handmade tile was mixed and matched with two color designs in each coffee bar. The tile installer meticulously placed each tile to create the design envisioned by the project architect.
Other aspects of the tile installation included Crossville Laminam large-format porcelain tile in the lobby area and adjacent elevator banks for its sleek and striking, professional look. TransCeramica Pietra Di Basalto 12×24 porcelain tile with antimicrobial finish on restroom floors was paired with Mosa Lines Mural tile on restroom walls, while Transceramica Stage 4×12 tile was utilized in water fountain alcoves.
The flooring installation consisted of a variety of Milliken carpet products, including vibrant colors in office areas and a Bohemian look in nearby collaboration areas. Carpet tile with soothing colors welcomes those in front of the first-floor fireplace area.
Mannington® Aspecta 10, Freelay and Amtico luxury vinyl tile was installed in office corridors, coffee-bar areas and adjacent to the collaboration spaces. These LVT products provided a beautiful, industrial look which complement the building's open ceilings and expansive windows offering views to the city.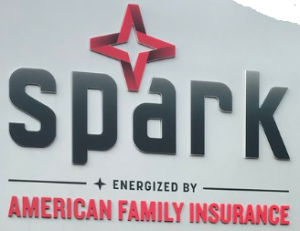 The Spark of American Family Insurance also represented the largest installation of Tate® access flooring in the history of H.J. Martin and Son: 119,000 square feet. Access flooring was installed on floors 1-9 of the structure, including the entirety of floors 2-8. The work was completed over a seven-month period, utilizing a crew of 4-18 installers.
Located in a heavily trafficked downtown area, not far from the Wisconsin State Capitol, delivery of materials to the job site on an almost daily basis had to be well planned. Superior coordination with the project manager, shipping companies and on-site supervisors ensured timely, seamless receipt of all materials.
The access-flooring crew had to stage materials to the upper floors using a crane since the building's elevator was not in operation for most of the project. It also had to closely coordinate with the general contractor to ensure that other trades completed their work before the access flooring went in, which had to be installed efficiently to maintain an extremely tight work schedule.
The project, which incorporated WELL Building Standards®, is pursuing LEED certification.
Tags: American Family Insurance Institute for Corporate and Social Impact, AmFam, Fireclay Picket handmade tile, H.J. Martin and Son, Tate access flooring, The Spark of American Family Insurance, WELL Building Standards, Wisconsin entrepreneurs, Wisconsin social issues