H.J. Martin captures top Starnet honor for Education flooring

Posted on April 25, 2018 by H.J. Martin and Son
H.J. Martin and Son captured top honors among 21 total entries in the Education category of the 20th Annual Starnet Design Awards.  The company's award-winning flooring project was the Fletcher Hall renovation and addition at the University of Wisconsin Oshkosh.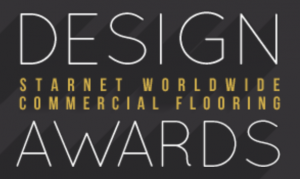 Gary VandenLangenberg and Rachel Weber of the H.J. Martin and Son Commercial Flooring division were presented with the Education Gold Award on April 20 in Orlando as part of the Starnet Worldwide Commercial Flooring Partnership annual meeting.
"This was a real winner for a number of reasons," said Starnet Awards Judge James O'Neill about the UWO Fletcher Hall project.  "Not only does it tell a strong environmental story but there are a number of different and unique design developments.  The project's compressed timeline also adds a sense of accomplishment for the installation team."
Fletcher Hall is a four-story residence hall at the University of Wisconsin Oshkosh, built in 1964 and primarily utilized by freshman students.  A $25.8-million renovation and addition was undertaken, increasing resident beds to more than 500, along with adding kitchen and lounge spaces.  Completed for the 2017-18 academic year, the project featured 100,000 square feet of renovated space, plus a 16,000-square-foot addition.
A number of different challenges were faced, and met, by the 12-person H.J. Martin and Son installation team (6 on carpet/resilient flooring, 6 on ceramic tile) over the course of this 15-month project (June 2016-August 2017).  Even with the project lasting more than one year, the work schedule was compressed in order to reach completion in time for the 2017-18 academic year.
The biggest challenge centered around the fact that the majority of the project involved remodeling a building that was more than 50 years old.  Working with the existing flat slab, tile installers needed to create a pitch in the shower areas, while completing their intense tile work from floor to ceiling.
Additionally, the dorm rooms themselves were small, necessitating work in compact spaces a majority of the time, a fact exacerbated by other trades needing to be in those same areas.  Other obstacles overcome included material lead times and scheduling sufficient manpower during some of the company's busiest months.
"Starnet is the industry standard in commercial flooring," says H.J. Martin and Son CEO Edward Martin.  "We take tremendous pride in our educational work, and we could not be more honored to have the Fletcher Hall project recognized with a Gold Award from Starnet.
"We thank all of our partners for entrusting H.J. Martin and Son with this work, and we credit our on-site installation team for their ingenuity in overcoming the challenges presented on this project."
An assortment of Masland carpet tile patterns, in custom colors, were installed in the residence hall's corridors, lounges and other public spaces.
Six different Daltile ceramic tiles were installed throughout the space on bathroom floors, walls, ceilings, showers and backsplashes, along with kitchens in the lower-level living area.
As part of its sustainability efforts, UWO initially desired LEED Gold certification.  However, renovation of a building constructed in 1964 did not lend itself to the required envelope changes needed for LEED Gold, so LEED Silver became the goal.  Many of the LEED points attained are the direct result of good design, along with the selection of materials and systems.
All of the carpet tile selected had a certain percentage of post- and pre-consumer recycled content and met the standards within the CRI Green Label program.  Flooring and ceramic-tile products helped to earn points in the MRc4 Recycled Contact category and IEQ 4.3 Low-Emitting Materials.
Mike Weidner oversaw the six H.J. Martin and Son carpet/resilient flooring installers as the on-site foreman.
Miron Construction of Neenah, Wis., served as the general contractor on the UWO Fletcher Hall project.  The architect was Eppstein Uhen Architects (EUA), headquartered in Milwaukee.
H.J. Martin and Son has a wide portfolio of Education projects, ranging from K-12 buildings to a variety of college and university facilities.
The Starnet Design Awards each year celebrate the dynamic partnerships between Starnet members, vendor partners, and the Architecture & Design community, spotlighting the innovative use of flooring in commercial design.
An elite panel of architect and designer professionals provided their expertise in judging the 2018 Starnet Design awards.  They were:
Starnet is the world's largest network of full-service independent flooring contractors. Its 171 locally owned members in North America are committed to the highest standards of excellence in the industry.  H.J. Martin and Son is one of four Starnet members operating in the state of Wisconsin.
Tags: Armstrong Luxury Vinyl Plank, Bentley carpet tile, Charlotte Blue, CRI Green Label program, Daltile ceramic tile, Eppstein Uhen Architects, Gary VandenLangenberg, H.J. Martin and Son, Inventure Design, James O'Neill, LEED certification, LS3P, Masland carpet tile, Mike Weidner, Miron Construction, Paul Lewandowski, Rachel Weber, Scott Simons Architects, Starnet, Starnet Design Awards, Starnet Education Gold Award, Starnet Worldwide Commercial Partnership annual meeting, University of Wisconsin Oshkosh Fletcher Hall