H.J. Martin honored as part of Daily Reporter 'Top Projects'

Posted on June 1, 2016 by H.J. Martin and Son
H.J. Martin and Son was honored to be involved with two projects which were recognized by The Daily Reporter on May 19 at its 'Top Projects of 2015' event. The Dane County Regional Airport Parking Expansion and Fox Valley Hematology & Oncology Center were among the night's award winners.
The Daily Reporter is Wisconsin's only daily business publication devoted to local construction news. Almost 750 industry professionals from the state were on hand in Milwaukee at the organization's annual awards dinner.
Miron Construction, a long-time partner of H.J. Martin and Son, served as the general contractor for both award-winning projects.
"We thank Dave Voss and the entire team at Miron Construction for entrusting us with a prominent role in each of these projects," says Edward Martin, president and CEO of H.J. Martin and Son. "We appreciate the opportunity for involvement with top-line work in our state."
The Dane County Regional Airport parking expansion added three levels of parking – nearly 1,500 spots – to the airport's existing parking structure, which also was renovated as part of the project. Two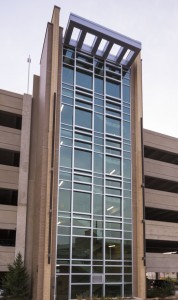 divisions of H.J. Martin and Son took part in the $20-million initiative in Wisconsin's capitol city of Madison.
The company's Walls & Ceilings team handled structural metal studs and beak metal flashings, along with drywall finish repair of prior water damage within the in-place structure. All work was completed by H.J. Martin and Son in a 57-day period while meeting the challenges of working at extreme height and around a number of complementary tradesmen.
H.J. Martin's Glass & Glazing division, meanwhile, installed six-story curtain walls in limited space on the building's east side, at a new elevator tower and at a new stair tower between the functioning ramp and the new ramp expansion. On the established west side, three-story curtain walls already in place were extended an additional three stories, splicing on to the existing curtain-wall windows.
For more information about the Dane County Airport visit, http://dane-county-airport.com/.
The Fox Valley Hematology & Oncology Center was a brand-new health and wellness center for the care and treatment of cancer and blood disorders. At more than 70,000-square-foot, the facility in Appleton, Wis., provides advanced cancer treatment options to roughly 300 patients daily. Beyond hematology, oncology and radiation therapy, FVHO offers complementary services which include physical therapists, chiropractors, acupuncturists, mental-health providers and yoga instructors, along with a café and meeting space.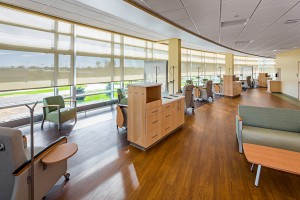 The H.J. Martin and Son commercial flooring team installed a variety of flooring types and looks within the diverse space. In patient-service areas and MRI rooms, more than 14,287 SF of Teknoflor Forestscapes was utilized to provide a wood look that created a home-like atmosphere for the patients. The company's luxury vinyl tile products, nearly 3,000 SF, were installed in high-traffic, common areas. Both products were chosen for their durability and ease of maintenance in a medical setting.
Interface carpet tile – a design-driven, yet durable, product – was the choice for patient exam rooms, waiting areas and meeting space. H.J. Martin and Son utilized 2,861 SF of carpet tile as part of the award-winning project.
Tags: Daily Reporter Top Projects, Dane County Regional Airport Parking Expansion, Dave Voss, Edward Martin, Fox Valley Hematology & Oncology Center, H.J. Martin and Son, Miron Construction, Teknoflor, The Daily Reporter