H.J. Martin and Son Supports International Children's Fund
Posted on July 6, 2015 by H.J. Martin and Son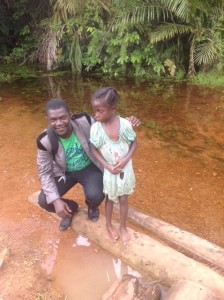 In 2014 H.J. Martin and Son donated merchandise, two large containers of flooring products, from its annual warehouse sale to International Children's Fund (ICF) in Africa.
ICF works to help the needs of impoverished African children. The organization works to bring African children away from starvation and disease as well as help construct orphanages, churches and water wells to provide safe drinking water.
"Having the opportunity to get involved in such a great organization is incredible," Edward Martin, President and CEO said. "We're thankful to have the resources to help those in need."
H.J. Martin and Son recently received an update regarding its donation. The materials were used to provide flooring in an orphanage, church and multipurpose building.
Lori Fulcer, ICF President, describes how the materials H.J. Martin and Son donated affected areas in Africa, particularly Liberia.
"Especially with the effects of the Ebola crisis, people are struggling; they are starving and living in poor locations. Being able to receive donations and send flooring products to people in need who would otherwise be sleeping on the ground is incredible," said Fulcer.
ICF sent photos of ceramic tile donated by H.J. Martin and Son. This tile was used in a church and multipurpose building in Liberia, an Ebola affected region.
H.J. Martin and Son hopes to continue its relationship with ICF and make a difference in the lives of those who need it most.
For more information visit the ICF website.






Tags: African children, ceramic tile, donation, Flooring, H.J. Martin and Son, International Children's Fund, new flooring, Warehouse Sale