H.J. Martin and Son goes Pink for October
Posted on October 19, 2018 by H.J. Martin and Son
Giving back to our community has been a mission of H.J. Martin and Son since the day our business opened. The company and the Martin family have tried to do as much as they can to support not just the employees, but the causes they are passionate about.
Of the many different causes and foundations we support, those that look to advance breast cancer awareness, research and treatment are some of those closest to our hearts. This disease is present in every one in eight women according to the Ribbon of Hope Foundation.
For the month of October and Breast Cancer Awareness Month, H.J. Martin and Son has done a few different things for our team to participate, with an effort to support breast cancer awareness.
To launch our initiatives this year, we purchased Pink Ribbon welcome mats produced by Carpet One Floor and Home. The mats are made and sold with a portion of the proceeds to be donated to the Breast Cancer Research Foundation. Carpet One has been selling the Pink Ribbon mats for over a decade, helping fund over 8,700 hours of research.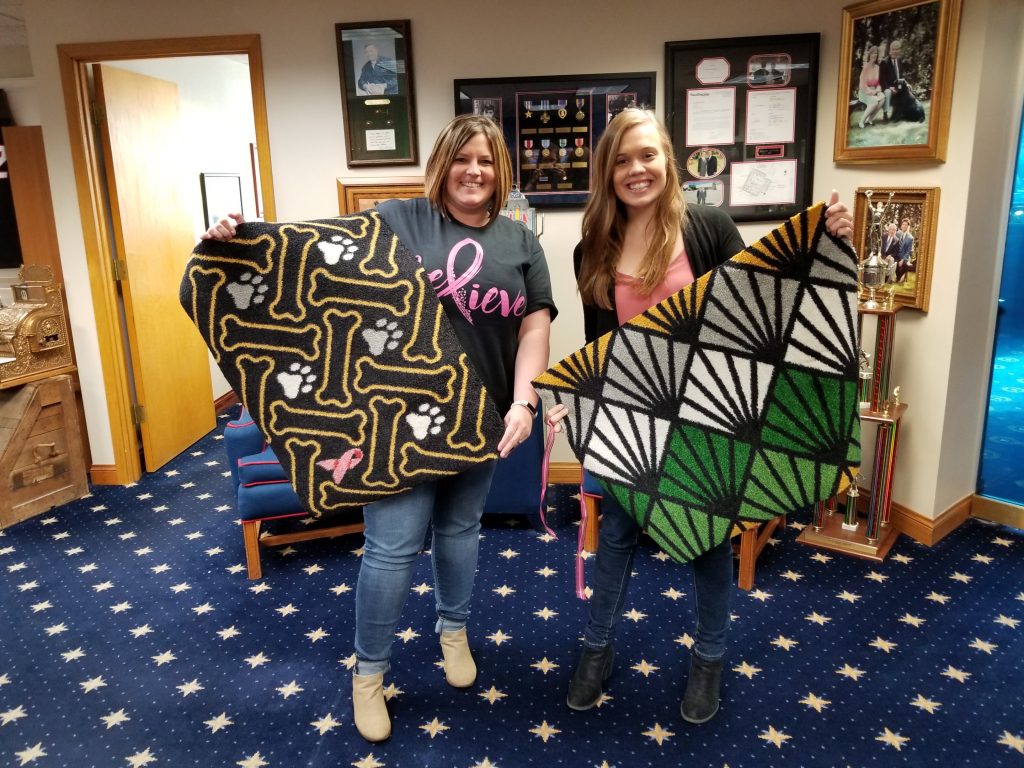 Further showing our support, we rallied as many of our coworkers as possible to Wear Pink on October 9th for an (early) Wear Pink Day! This is a widely recognized day for awareness and fundraising (October 19th) and for us was a great way to let our employees and customers truly know how much we care about this cause. Additionally, we had cookies for our customers to enjoy and the designers handed out some of the mats to a few of their clients!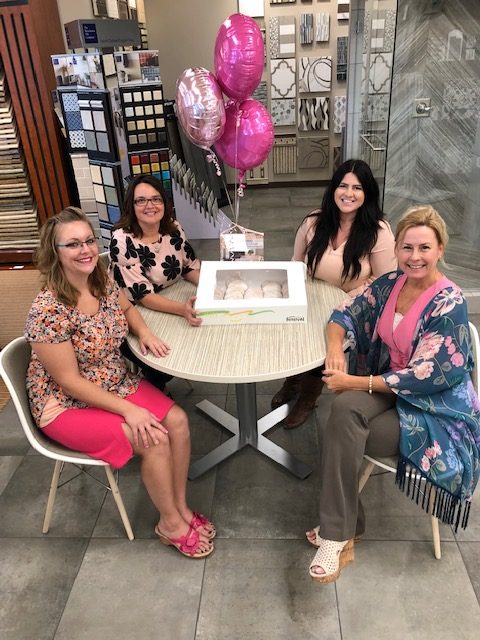 Lastly, we participated for the second year running in the B.R.A.s of the Bay Breast Reconstruction Awareness initiative. The event has a number of local businesses decorate bras with over-the-top creativity. The bras are then displayed at the businesses for the month of October and are then brought to the event hosted by Plastic Surgery & Skin Specialists by BayCare Clinic.
This year our team members Madison, Taylor, Emily and Allison decorated our bra in the theme of Dorothy from the Wizard of Oz, with the bra decorated with tile from our showroom depicting the Yellow Brick Road, Red Poppies and the Emerald City. We even had the ruby red slippers and Toto!
All of the bras were voted on and some were even purchased during the B.R.A.s of the Bay event on October 18th to support the Ribbon of Hope Foundation and Breast Reconstruction Awareness Day USA Initiative. We were very excited to learn that someone has purchased our bra this year, and the proceeds will be donated to the cause!
Overall, we are very grateful to have so many employees who are passionate about raising funds and awareness for this cause.
For more information about H.J. Martin and Son, visit our website at www.hjmartin.com or call 920-494-3461.
Tags: BRAS of the Bay, Breast Cancer Awareness Month, Breast Cancer Research Foundation, Carpet One, H.J. Martin and Son, Pink Ribbon, Pink Ribbon Welcome Mat, Wear Pink