Here's the H.J. Martin and Son "Floorcare Top Ten List"

Posted on November 29, 2019 by H.J. Martin and Son
With the retirement of David Letterman in 2015, his Late Show "Top Ten List" largely has been on the shelf.  But we're bringing it back today to help you understand the full scope of floorcare services offered by H.J. Martin and Son.
Floorcare protects and enhances the investment you have in your flooring, at home or at your business. There is no better way to prolong the life of your floors than with the floorcare team of H.J. Martin and Son.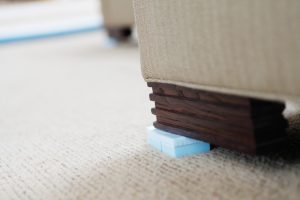 So, without further ado, here is the "Floorcare Top Ten List" of H.J. Martin and Son:
COSTS: We offer free estimates in-home (residential) or at a business (commercial), and customers find our hours to be flexible and convenient.
CONVENIENT and SAFE: We will move most furniture at no cost, using corner protectors and foam blocks, and our products are 100 percent green and safe for children, pets and the environment.
RECOMMENDED and REQUIRED: Hot water extraction is recommended by carpet manufacturers and carpet cleaning every 12-18 months is required by a majority of manufacturers to uphold warranties.
WATER: We supply our own water at 220 degrees from a truck-mounted system, and 95 percent of the water is removed from your carpet (shortening the drying time); we haul away the dirty water.
PEOPLE: Our technicians, many of which have 20-plus years of experience and have undergone extensive training, are courteous and respectful of every customer's home/business and the possessions within.
CARPET: We clean carpet, area rugs and furniture; provide carpet repairs and restretching; offer spot removal and odor removal with the Un-Duz-It upgrade; give enhanced protection with the Scotchgard™ upgrade; and offer deodorizing to keep your carpet (and furniture) smelling clean and fresh.
MARBLE and STONE: We polish and restore marble, along with offering cleaning, sealing and restoration of natural stone.
TILE: We clean caulking, along with sealing and recoloring, on tile, grout and backsplashes, on floors and in showers.
VINYL: We strip down vinyl and resurface with polish for a like-new look, in addition to providing the cleaning and resurfacing of vinyl composition tile (VCT).
MODERN TECHNOLOGY and 24/7 AVAILABILITY IN EMERGENCIES: We use Dirt Dragon technology to deep-clean hard surfaces, and water restoration is available 24 hours a day, 7 days a week, for the extraction of water, removal of existing flooring and the application of Microban to prevent or stop mold growth.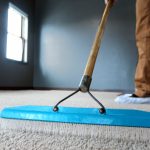 Our floorcare team is just a phone call away.  Reach us at our Green Bay Showroom at 920-494-3461, or at our Fox Valley Showroom at 920-886-6668.  And our 24/7 Water Emergency Line is 920-609-1367.
Tags: area rug cleaning, Carpet Cleaning, Carpet Repairs, Carpet Restretching, Clean Carpet, fire restoration green bay, Floorcare, Floorcare Services, Floorcare Technicians, furniture cleaning, green bay carpet cleaner, green bay carpet cleaning, Grout recoloring, H.J. Martin and Son carpet cleaning, H.J. Martin and Son floorcare, H.J. Martin and Son floorcare services, hardwood cleaning, hardwoods finishing, hot water extraction cleaning, Late Show "Top Ten List", Scotchgard, Spot Removal, tile cleaning, Un-Duz-It, water extraction green bay