Commitment to customer service brings Houzz recognition

Posted on January 21, 2016 by Katie Krause
The long-held commitment of H.J. Martin and Son to customer service has been recognized by Houzz and its users for a third straight year. The company was notified on Jan. 12 that it had been chosen "Best of Houzz 2016 – Service."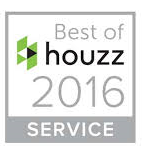 Houzz is an online community providing users with information and photos, along with product recommendations and reviews, on architecture, interior design and home improvement, among other like topics. The homeowner-to-homeowner guide boasts more than 35 million users monthly.
The Houzz Service honor is based upon several factors, including the number and quality of recent client reviews. Each year only 3 percent of construction professionals gain the recognition for rating at the highest level of client satisfaction by the Houzz community.
"Houzz has become the gold standard in the industry," says Nicole Jensky, director of marketing for H.J. Martin and Son. "We appreciate the time that our customers took to share their positive experiences with the service of H.J. Martin and Son. This award is a real tribute to our designers and installers."
H.J. Martin and Son also was a Houzz award winner in 2014 and 2015. See the H.J. Martin and Son Houzz page here.
Tags: Award, Best of Houzz, customer service, H.J. Martin and Son, Home improvement, Houzz, Interior Design, Nicole Jensky, Recognition