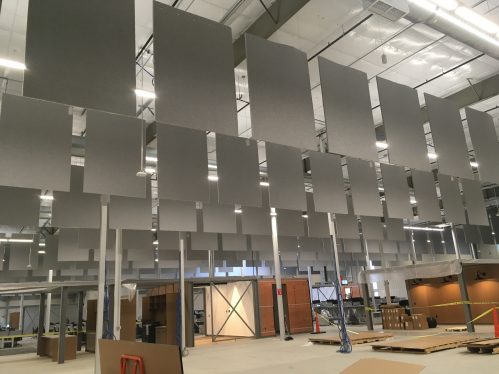 Case Study
VF Corporation
Project Divisions: Walls & Ceilings
Project Manager(s):
Acoustical Ceilings: Tim Boland | [email protected] | 920-490-3123
Location: Appleton, Wis.
Completion Date: January, 2020
Project Description:
VF Corporation is one of the world's largest apparel, footwear and accessories companies. One of its subsidiaries, VF Outdoor, supports popular outdoor and action sports brands including The North Face®, Vans®, and Timberland®.
Employing 400 full time and 200 seasonally in Appleton, Wis., VF Outdoor made the decision to convert a former manufacturing floor into an office facility.
The Walls & Ceilings team of H.J. Martin and Son was called upon to provide a unique, and challenging, ceiling solution for the new office areas. No traditional ceilings were utilized, but instead large ceiling panels were hung.
Additionally, 670 – 5'x7' Echo Eliminator recycled cotton acoustical baffles were installed in the main office space. Along with offices, there were smaller, breakout conference rooms with lounges and coffee areas. In all, nine breakout areas had acoustical fins installed.
The fins along the original ceiling were paired with the steel structural columns. These fins were custom manufactured to fit between the steel framing.
The H.J. Martin and Son project manager was asked to assist with concepting the ceiling ideas. A quality solution was identified, and the product was procured and installed while staying within the VF budget.
A challenge of the fins installation was the company's desire that no fasteners or hanging devices be visible. The solution arrived at by H.J. Martin and Son was to fasten the fins to metal strapping and use double-sided tape to ensure they didn't shift or move.
H.J. Martin and Son utilized a ceiling crew ranging from 2-3 installers to successfully complete this project over a five-month period from September 2019 to January 2020.
---
Navigate Featured Projects
Connect With A Specialist