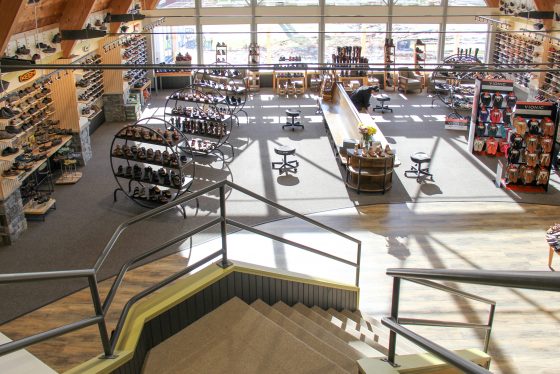 Case Study
The Heel
Project Divisions: Flooring & Ceramic Tile
Location: Green Bay, Wis.
Completion Date: February, 2017
Project Description:
The Heel, a specialty flooring retailer located in downtown Green Bay, Wis., for 35 years, was moving to a suburban location which had three times the sales-floor and storage space, increased parking and easy highway access.  Its new facility formerly had housed everything from an outdoors retailer, to an ethnic restaurant, to a day spa, and it required extensive remodeling.
The two-week flooring project, which took place early in 2017, was handled by a journeyman floor-layer, plus a helper.
A variety of challenges were met to successfully complete this project.  The building was unique in its shape, and with no existing dimensions the H.J. Martin and Son project manager was required to generate his own measurements, using estimating software.  Then, once on-site, the company's installer had to rely on his professional expertise to correctly lay out the flooring materials to provide the look desired by the owner.
Because of its past uses, the building had existing issues which needed to be addressed up front.  Primary among these challenges was a sizable hump in the concrete where a past structural addition had been made.  Worse yet, the hump was located right in the main walkway for customers.
With Luxury Vinyl Tile (LVT) – a very unforgiving material – scheduled for installation in that spot, floor preparation became paramount.  The hump was successfully repaired and patched, and the LVT installed satisfactorily.
In other areas, adhesive removal was required for the installation of flooring materials that ranged from carpet tile to multiple LVT products, including a rich-looking, simulated wood in the primary pathway.
The original store design had the vinyl planks turned 90 degrees.  The H.J. Martin and Son project manager proactively approached the owner and shared that he believed the floor would look much better – and appear longer – if the wood LVT were to be installed running across the length of the store.  The owner agreed with this assessment, and the adjustment was made for an improved look.
---
Navigate Featured Projects
Connect With A Specialist