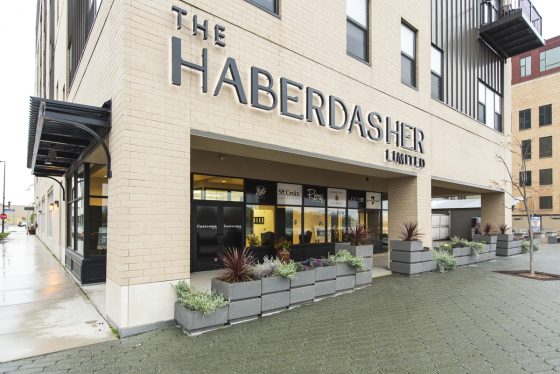 Case Study
The Haberdasher Limited
Project Divisions: Doors & Hardware, Flooring & Ceramic Tile, Glass & Glazing, Walls & Ceilings
Location: Green Bay, Wis.
Completion Date: August, 2014
Project Description:
A long-time men's clothier in Green Bay, Wis., was moving from the southern edge of downtown to a previously unfinished space near the city's convention center and planned new housing. The owner desired a unique, upscale retail experience, unlike anything else in the community, with the look and feel of a big-city retailer.
H.J. Martin and Son served as the construction manager for the project, touching every aspect, including design, engineering and phasing. The company hired and facilitated all sub-contractors, while utilizing four of its own divisions to self-perform work. The space was a blank canvas of 3,700 square feet which had been empty since the original construction of the building six years earlier.
The company's Walls & Ceilings division installed custom ceiling clouds and pans in order to avoid low acoustical ceilings of roughly 10 feet in height. This design provided a more open concept, allowing for a mix of drum lights, chandeliers, canned lights and track lighting above. Earlier, the Walls & Ceilings team also handled the steel-stud framing, plus drywall installation and finishing.
The Glass & Glazing and Doors & Hardware divisions followed to install the retailer's storefront windows, front-entrance doors, mirrors and the interior glazing within the tailor shop. The design of the front entrance, along with its canopy and bases, originated with Project Manager Tim LaSure, who had the bases constructed of PVC and painted black.
Flooring installed by H.J. Martin and Son consisted of 1,990 square feet of Provenza Heirloom engineered hardwood in the retail area and 1,540 square feet of luxury vinyl tile (Earthwerks Legacy Plank) in the tailor shop.
Because of the downtown location of The Haberdasher Limited, H.J. Martin and Son was faced with several logistical challenges. Among these was a scarcity of available parking and ample pedestrian traffic during the sun-kissed summer months.
The Haberdasher Limited received a Mayor's Beautification Award from the City of Green Bay in November 2014. It also was a nominee for the 2015 Best Regional Projects of Engineering News-Record for projects under $10 million.
---
Navigate Featured Projects
Connect With A Specialist