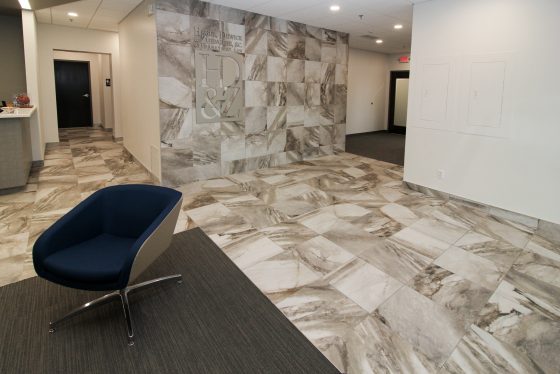 Case Study
Hager, Dewick & Zuengler
Project Divisions: Flooring & Ceramic Tile, Walls & Ceilings
Location: Green Bay, Wis.
Completion Date: February, 2019
Project Description:
Hager, Dewick & Zuengler, S.C., is a legal firm located in downtown Green Bay, Wis. Its practice areas include mergers and acquisitions, probate, corporate law, commercial real estate, business litigation, estate planning and civil litigation.
The firm sought to renovate its office space along the eastern edge of the Fox River to better serve its team of more than a dozen attorneys and legal staff.
Multiple divisions of H.J. Martin and Son took part in the project, which was conducted in three phases with the firm's employees continuing to occupy the space throughout the construction process. Additional challenges overcome included moving materials up and down to the job site on the building's second floor, plus the need to work around other tradesmen in confined areas.
The company's Walls & Ceilings division averaged six on its crew over the four-month period from November 2018 to February 2019. The entire project utilized 10,644 lineal feet of framing, along with 18,000 square feet of drywall.
Walls & Ceilings ramped up its number of workers slightly to get the project back on track when it had fallen behind. When other trades did not finish on time, H.J. Martin and Son loaded up the job to get it drywalled and ready for paint, allowing the painter to start and finish on time. This adjustment allowed the client to make use of the space and open areas in the next phase to keep the project on track.
The Commercial Flooring division worked with a variety of flooring products on the project. Bentley carpet tile was installed in office areas, corridors, conference rooms and in additional spaces as a complement to other materials. Luxury Vinyl Tile (LVT) and Plank (LVP) from Shaw and Tarkett were utilized; a rich, wood look was provided in the law firm's reference library.
Ceramic tile from Ceramic Tileworks was installed in several locations. Most prominent was a marble tile utilized in the firm's main entry and waiting area. The marble installation extended to the wall greeting visitors, where the Hager, Dewick & Zuengler name and logo were affixed.
Tile also was installed on the floors and walls of the office's restrooms, in addition to the backsplashes.
Two flooring/tile installers from H.J. Martin and Son spent two months on the entire project. With the law firm's employees remaining in the office throughout, the job was conducted in three phases, working around their schedules. Typically, demo work was done at night while the office was closed and product installations took place during work hours.
Walls & Ceilings also was called upon to handle the acoustical ceilings throughout the law firm's entire office. Armstrong® Grid and Tile was put into place by a single installer over the same two-month period that the Commercial Flooring division was on site.
---
Navigate Featured Projects
Connect With A Specialist