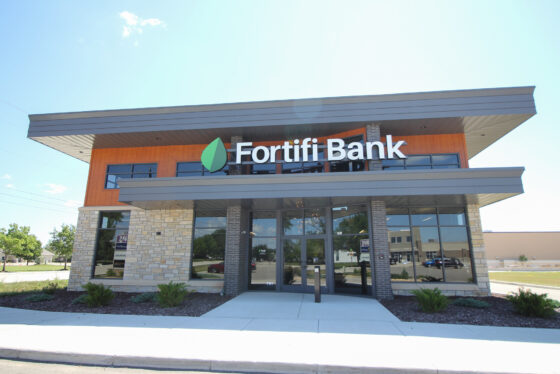 Case Study
Fortifi Bank Green Bay Branch
Project Divisions: Doors & Hardware, Flooring & Ceramic Tile, Walls & Ceilings
Location: Green Bay, Wis.
Completion Date: July, 2019
Project Description:
Fortifi Bank has been serving personal and business clients since 1876. Headquartered in Berlin, Wis., the bank has total assets in excess of $450 million.
Fortifi had opened a Northeast Wisconsin office in 2010 to handle loan production services. When it desired to expand its services to a full retail location, a brand-new branch building was constructed in a growing area of Green Bay.
H.J. Martin and Son handled three scopes within the 4,650-square-foot structure: Acoustical Ceilings, Flooring & Ceramic Tile, and Doors & Hardware. The building itself featured exterior materials of brick, stone and window glazing with concealed fastener architectural metal accent panels. Inside, there was a focus on back office-type activities, with a smaller lobby for customer interactions.
The acoustical ceiling installation was centered around a custom-colored ceiling cloud within the lobby area, which had to match a radius curved wall over the teller area on the same side.
One ceiling installer spent a week-and-a-half completing the work. The ceiling also had to be painted a custom color.
The flooring installation took place over a one-month period early in 2019. Work included all areas of the structure: public spaces, offices and conference rooms, and restrooms.
In all, roughly 6,000 square feet of flooring was put into place by two company installers. It included Milliken modular carpet tile and Armstrong® luxury vinyl tile (LVT). One tile installer from H.J. Martin and Son laid the ceramic tile, which was from 21st Century Tile.
The company's Doors & Hardware division installed 25 hollow-metal frames for pre-finished maple doors. A unique aspect of the project was its use of pocket doors and barn doors, and the requisite specialized hardware.
A two-person crew spent three-and-a-half weeks completing all of the doors and hardware work.
---
Navigate Featured Projects
Connect With A Specialist