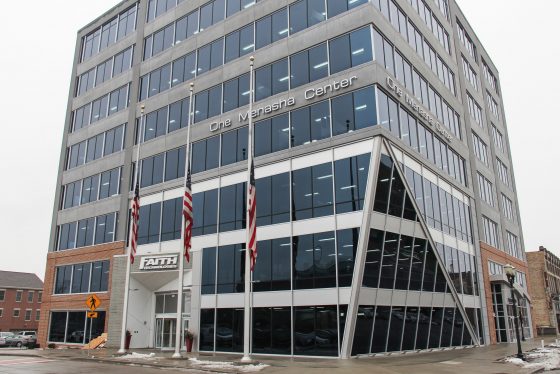 Case Study
One Menasha Center | Faith Technologies
Project Divisions: Flooring & Ceramic Tile, Walls & Ceilings
Location: Menasha, Wis.
Completion Date: May, 2016
Project Description:
One Menasha Center is an eight-story office building located in the Northeast Wisconsin city of Menasha. The $12.6-million project was designed to anchor a revitalized downtown, bringing 300 jobs to the city center, as it replaced a decaying hotel which was torn down.
The 118,000-square-foot structure houses Faith Technologies, a national specialty contractor of electrical design and installation, on its upper seven floors. A credit union and dental office sit at street level.
Two divisions of H.J. Martin and Son took part in this landmark project: Walls & Ceilings and Commercial Flooring.
Walls & Ceilings handled the building's exterior framing, work made more challenging by the extreme tightness of the urban job site and the structure rising eight stories into the air.
The H.J. Martin and Son Walls & Ceilings team spent 10 months (July 2015-April 2016) working on this project, maxing out at approximately 30 crew members.
Materials utilized included metal studs, drywall and finish material. A unique aspect of this project was the extensive amount of shaft wall material which was installed.
The Commercial Flooring division of H.J. Martin and Son installed carpet tile and luxury vinyl plank (LVP) within the seven floors that make up the offices of Faith Technologies.
The company's 4-6 person crew successfully worked around other on-site tradesmen and staged materials on the limited plat. It also met the time constraints of an accelerated work schedule, finishing in time for the building's grand opening.
---
Navigate Featured Projects
Connect With A Specialist