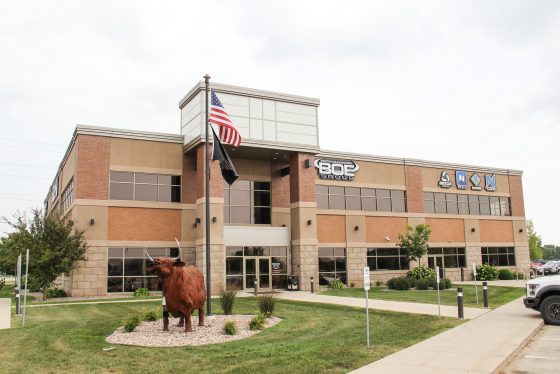 Case Study
BOE Group Renovation
Project Divisions: Flooring & Ceramic Tile, Shower Doors, Walls & Ceilings
Location: Green Bay, Wis.
Completion Date: January, 2018
Project Description:
BOE Group is a conglomerate of companies serving the transportation, technology, construction and renewable energy industries. It planned to move its offices to a relatively new, two-story building, which previously had served as the home of a for-profit college, on the outskirts of Green Bay, Wis.
Multiple divisions of H.J. Martin and Son, primarily its staff designers and Commercial Flooring & Ceramic Tile, collaborated on this fast-track project which reimagined the existing structure. With a need to vacate its prior space, BOE Group required that all work be completed in a three-month timeframe late in 2017 and early in 2018.
H.J. Martin and Son designers collaborated with BOE Group leaders on flooring choices and other design elements at the outset of the project. BOE sought bold, bright colors wherever possible in order to accentuate the flooring and to stimulate its employees.
Pentz commercial carpet was installed in many of the office areas, along with in stairwells. Different styles of Masland carpet within the same collection were utilized in executive offices spaces.
A striking barbed-wire pattern, also manufactured by Masland, was the installation choice for the office of the company owner. Other offices, with their varied carpet choices, branched off from this space.
Other company spaces – conference rooms, recreational/game room and workout area – utilized Bentley commercial flooring with a warm, relaxing feel to it. The company's goal was for its employees to clear their minds and bond with co-workers while taking breaks.
The "team huddle area," a variation of a formal conference room, saw the installation of Pentz carpet.
H.J. Martin and Son also installed ceramic tile on the walls and floors of multiple restrooms. Complementing the tile was a shower door, with brushed-nickel hardware and rain glass, which was created and situated by the shower specialists of H.J. Martin and Son.
The H.J. Martin and Son Walls & Ceilings division was called upon to handle miscellaneous ceiling work throughout the building. Primarily this consisted of patching of the existing ceiling.
---
Navigate Featured Projects
Connect With A Specialist