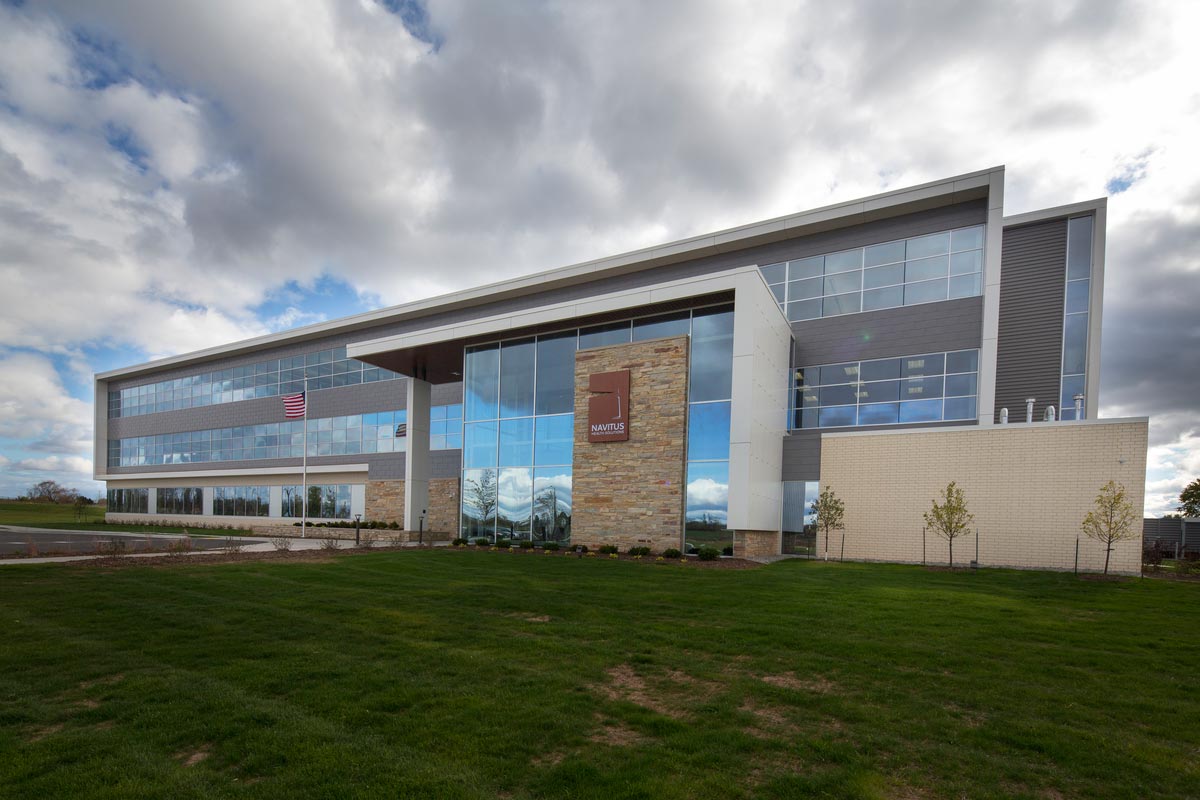 Case Study
Navitus Health Solutions
Project Divisions: Flooring & Ceramic Tile, Glass & Glazing, Walls & Ceilings
Location: Grand Chute, Wis.
Completion Date: October, 2016
Project Description:
Navitus Health Solutions is a full-service pharmacy benefits company headquartered in Madison, Wis. It provides services to government entities, self-funded employers, coalitions, labor organizations, third-party administrators and health plans.
The company wanted to relocate staff from its satellite corporate campus in Appleton, Wis., to a brand-new facility on 8 acres, along Interstate highway 41 in nearby Grand Chute. Phase 1, completed in September 2013, consisted of a three-story, 70,000-square-foot office, and call-center building.
Phase 2, featuring 120,000 square feet constructed for more than $13 million, was finished in October 2016. Between the two buildings, Navitus can house up to 500 employees.
The ground floor of the first building consists of IT data services and building infrastructure. On the second floor are the Navitus call center, member services and training/conference rooms. Open office functions are located on the third floor.
Two divisions of H.J. Martin and Son – Walls & Ceilings and Glass & Glazing – participated in both the Phase 1 and Phase 2 projects. Commercial Flooring was involved in Phase 1 as well.
The most prominent work was completed by the Glass & Glazing division. The Navitus structure features extensive use of glazing inside and out. There is an expansive glass facade, along with interior glass surrounding offices and conference rooms.
H.J. Martin and Son installed 14,000 square feet of glazing in Phase 1 of the Navitus project, using typical sheet sizes of 60 inches by 33 inches. Specified by the building designer was 1-inch clear insulating glass units, with Guardian SunGuard SNR 43 low-emissivity on the No. 2 surface, for the majority of the structure. Some of the office use 1-inch insulating clear, Low-E spandrel glass.
For the facade facing the interstate highway, 1-1/16 inch clear, Low-E laminated insulating glass was installed for its sound-dampening features.
A challenge of this project was the use of tall exterior windows with limited framing, requiring installers to load the frames with steel to reinforce and help with wind load. Each piece of glass weighed 320 pounds, not including the added steel, meaning that lifts had to be utilized to get the majority of glass into place.
H.J. Martin and Son was saluted by Glass magazine in January 2014 for its "Great Glazing" on Phase 1 of the Navitus project.
The company's Walls & Ceilings division handled cold-formed, non-load bearing metal-stud framing on the building's exterior, along with gypsum sheathing and plywood sheathing. It also installed continuous installation on the exterior.
Interior work by Walls & Ceilings included metal-stud framing and furring, drywall and taping/finishing of the drywall.
Walls & Ceilings was challenged in both Phase 1 and Phase 2 by poor site conditions. In each case, exterior work occurred during the early Spring, meaning that thawing conditions combined with the clay soil predominant in Northeast Wisconsin resulted in difficult terrain to navigate underfoot.
Between the two buildings, roughly 48,000 square feet of RainBarrier® HD insulation and 54,000 square feet of gypsum sheathing were utilized on the exterior. The interior combined for approximately 383,000 square feet of drywall.
H.J. Martin and Son completed both Phase 1 and Phase 2 on schedule in spite of difficult conditions.
Commercial Flooring installed a wide variety of products on Phase 1. Included in the install was more than 6,000 square yards of carpet tile, plus ceramic and porcelain tile, sheet vinyl, luxury vinyl tile (LVT), vinyl composition tile (VCT), rubber tile and stair treads, and stacked stone.
A unique aspect of this flooring installation was the use of Terrazzo stair treads on the featured staircase. Each one was fabricated off-site, then welded into place.
---
Navigate Featured Projects
Connect With A Specialist