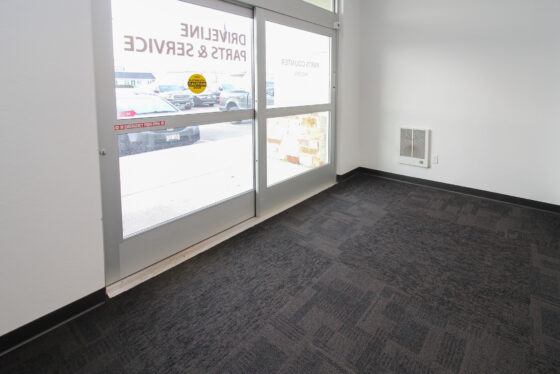 Case Study
Machine Service Inc.
Project Divisions: Doors & Hardware, Flooring & Ceramic Tile, Glass & Glazing, Walls & Ceilings
Location: Green Bay, Wis.
Completion Date: March, 2019
Project Description:
Machine Service Inc. (MSI) manufactures and supplies industrial machinery and automotive components. The company's product line includes drive shafts, driveline parts, universal joints, power transmission truck parts, gear couplings and clutches. It also engineers custom transmission components solutions.
MSI serves industrial, military, marine and automotive markets worldwide. Its high-visibility work includes the key composite drive shaft system to optimize performance of the Joint Light Tactical Vehicles (JLTV) manufactured by Oshkosh Corp. for the U.S. Military.
First started in 1948, the company purchased a new, 78,000-square-foot building on the outskirts of Green Bay, Wis., in 1994. Today it employs more than 175.
Early in 2019, MSI undertook a project to refresh and update its main office and service center areas, including restrooms. The prescribed scope entailed new flooring, ceilings and glass, along with doors and hardware; all of this work was handled by H.J. Martin and Son.
Two members of the company's Walls & Ceilings division installed 14,000 square feet of new, standard white grid ceiling tile over a three-week period in February 2019. The duo overcame the challenge of building walls which were not perfectly square or flush.
The flooring installation entailed multiple product types: walk-off carpet tile, luxury vinyl tile (LVT), floor tile, wall tile and rubberized flooring. Two installers spent three months, from January-March 2019, on site completing the work.
Centiva LVT, measuring 7,750 square feet, was a primary focus of the flooring installers. There were three different colors, and the materials had to be installed at a 45-degree angle – a challenge that was successfully met.
Other flooring installed was 520 yards of carpet tile, 1,335 yards of floor tile and 1,900 yards of wall tile. Rubberized flooring by nora® systems also was part of the installation; this product must lay perfectly flat or mistakes will be seen easily.
The Glass & Glazing division of H.J. Martin and Son utilized a four-person team to install new storefront windows and doors over a four-month time frame.
The complementary work of the company's Doors & Hardware division was extensive. A pair of installers put 39 hollow-metal frames from Ceco Door into place, along with 13 hollow-metal doors.
They also installed 30 plain sliced white maple solid core wood doors of architectural grade, which were pre-finished at the factory, plus stainless-steel hinges on exterior doors.
---
Navigate Featured Projects
Connect With A Specialist