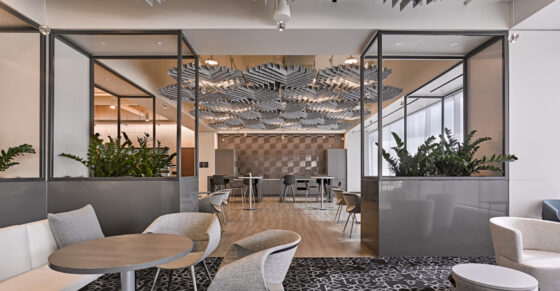 Case Study
Exact Sciences Discovery Campus
Project Divisions: Flooring & Ceramic Tile, Glass & Glazing
Location: Madison, Wis.
Completion Date: April, 2020
Project Description:
Exact Sciences is a leading provider of cancer screening and diagnostic tests, including Cologuard® to detect colorectal cancer and Oncotype DX to help women recently diagnosed with early-stage invasive breast cancer.
Headquartered in Madison, Wis., to help meet its rapid growth Exact Sciences launched a series of construction projects throughout 2019 and into 2020. This undertaking included a new, 169,000-square-foot clinical laboratory and warehouse, renovation of an existing office building, construction of a cafeteria and employee amenities building that connects the lab to the office building, and a 970-stall parking garage.
The new laboratory gave Exact Sciences the ability to process an additional four million Cologuard® tests annually, in addition to three million per year at an existing lab. The company now also is better equipped to handle its more than 3,000 employees.
The Commercial Flooring and Glass & Glazing divisions of H.J. Martin and Son took part in this large-scale, signature project.
A crew of 4-6 company flooring/tile installers spent 16 months on site, from January 2019 through April 2020. The tile installation was extensive – 53,508 square feet in all – much of it rare products manufactured in Italy.
Laminam, a large-format porcelain tile, was utilized in multiple high-visibility, public spaces. These included the back wall of the main lobby; restrooms and locker rooms on Floors 1-4; and walls and counters within the cafeteria.
Metropolitan Ceramics from Jaeckle Distributors, Tratto from Stone Source, Penny Round Mosaics from American Universal, and American Olean were among the tiles used on the walls and floors of the nearby deli and service counters, kitchen and dishwashing area. Crossville's Nest tile with Cross-Sheen® finish was installed in the dining room.
Corridor walls, ceilings and floors included matte and mosaic tiles from Atlas Concorde, along with the Gubi Collection from Walker Zanger. Gubi tile also was used in elevators and on elevator walls.
Crossville Handwritten gloss tile (in multiple colors), Infinity matte from Landmark Ceramics and the Brave Collection from Atlas Concorde were among the tile installations in all restrooms, plus the men's and women's locker rooms and shower areas.
The Brave Collection, a natural-stone look porcelain tile, also was installed in the first-floor lobby reception area and vestibule.
Union Square, a product of Interceramic, was utilized in areas with heavy traffic, including break, fitness and pre-function spaces.
More than 80 bags of grout from Laticrete, in various colors to match tile and weighing 2,000-plus pounds, was used throughout the project. Supplies also included more than 50 tubes of Laticrete caulk, color-matched to the grout and tile.
Six installers from the Glass & Glazing division of H.J. Martin and Son worked in all areas of the large-scale project.
Unique products were part of the glass installation. These included blast-resistant, translucent wall panels, along with skylights that help to collect and project light better throughout the buildings.
---
Navigate Featured Projects
Connect With A Specialist