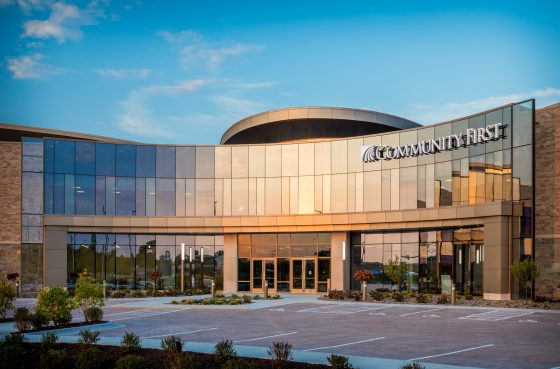 Case Study
Community First Credit Union Corporate Headquarters
Project Divisions: Flooring & Ceramic Tile
Location: Fox Crossing, Wis.
Completion Date: October, 2017
Project Description:
The third-largest credit union in Wisconsin, Community First Credit Union, constructed a new, $25-million corporate home office, paired with a full-service branch, to replace a 22-year old facility. More than doubling its prior space, at 130,000 square feet the mixed-use building features three wings, 39 meeting rooms and offices, a central rotunda to welcome guests, and extensive use of glass walls to provide an open feel and allow light in.
In addition to traditional offices, the building's interior design intentionally incorporates several customer-experience zones, focusing on financial literacy, children, start-up businesses and non-profit organizations. Due to the diversity in space usage, a wide variety of flooring products were specified for this project.
Bentley's carpet tile was installed throughout the office space, including Multiplay 18×36 with NexStep® cushion (in Metal Mania color), Hitchhiker 18×36 (Cargo Culture color) and Wonderlust 18×36 modular with NexStep® cushion (Urban Escape and Sundry colors).
Masland Amplify modular carpet tile was the choice in the building's dining area and Mannington's Traverse in the entry area for its ability to trap dirt. Atlas Percussion broadloom carpet was utilized in the first-floor meeting space, while the second-floor conference areas feature Prelude and Percussion broadloom products.
Daltile's Saddle Brook glazed porcelain tile, in Oak Trail, was utilized in the lower-level restrooms for its warm, hardwood look. A wide selection of Tarkett | Johnsonite products were used, including iQ Granit SD vinyl flooring in data rooms for its permanent static-dissipative qualities, along with cove base and transitions, epoxy caulking compound, and stair treads. On landings and stairwells, Johnsonite solid rubber flooring and surface treads, in Bamboo pattern and Toast color, were installed.
A primary challenge of this project was the fact that a number of different carpet colors and borders were installed, requiring keen attention to layouts and transitions. The installation team also had to work around other vendors/trades. Material lead times and the installation timeline also presented challenges, which were met successfully by the six-person crew of installers over the three-month period of August-October 2017.
---
Navigate Featured Projects
Connect With A Specialist