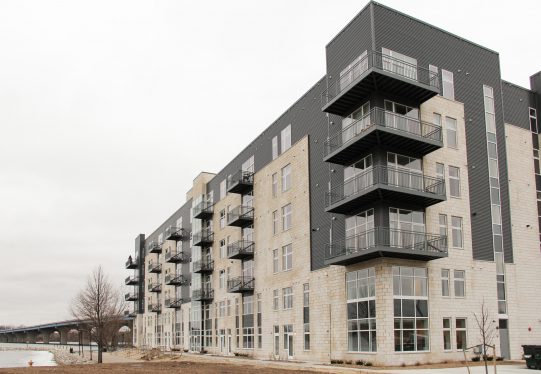 Case Study
Manseau Flats
Project Divisions: Flooring & Ceramic Tile
Location: Ashwaubenon, Wis.
Completion Date: December, 2018
Project Description:
Ashwaubenon, Wis. is a village of nearly 20,000 residents just south of Green Bay. Village leaders sought to add 600 apartment units to meet growing demand among current and prospective residents.
The first of several new apartments to be constructed was Manseau Flats, an $8-million project along the western shores of the Fox River. The six-story, 78-unit building consists of one- and two-bedroom units and was designed with larger unit sizes and high-end amenities for appeal to those seeking upscale living.
The Commercial Flooring division of H.J. Martin and Son was challenged from the outset. The project was running about one month behind schedule, and the building owner wanted to allow some residents to move in before all work was scheduled for completion in December 2018.
H.J. Martin and Son flooring installers were able to begin their work in September of that year. However, residents of floors 5 and 6 were promised that they could move into their units in mid-October. And all flooring installation had to be completed by December.
The company's on-site foreman was able to make up the time that the project was behind schedule through coordination of manpower to keep crews working as efficiently as possible. Using 8-10 installers, both the mid-October and December completion deadlines successfully were met.
A variety of flooring products were utilized within each unit. Raskin luxury vinyl plank (LVP) – 46,000 square feet total – was installed in the main area of the apartments. That was complemented by approximately 9,000 SF of Mannington luxury vinyl tile (LVT) put into unit bathrooms.
Mohawk carpet – 3,500 square yards in total – was installed in apartment bedrooms.
---
Navigate Featured Projects
Connect With A Specialist